Remember going to New Year's Eve parties? (Remember going to any parties?) Recall those glory days when we had our pick of three or even four events to attend — and carefully weighed how long to stay at each one and in which order? Ah, youth. Well, we're not going to ask what you'll be doing New Year's Eve 2020 … but Tipitina's has a suggestion. And it might be better than what many of us have in mind.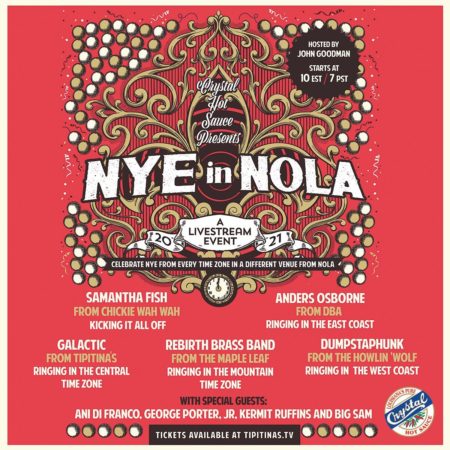 It's "NYE in NOLA" — not one but five virtual concerts from five different New Orleans venues, all live-streaming on Tipitina's TV. There's a different show to usher in the new year for most of the time zones in the U.S. (sorry, Alaska and Hawaii) and Canada (sorry, Newfoundland and Nova Scotia.) But we digress.
Samantha Fish kicks it all off, live from Chickie Wah Wah, at 9:00 pm CST (or this time in your area.)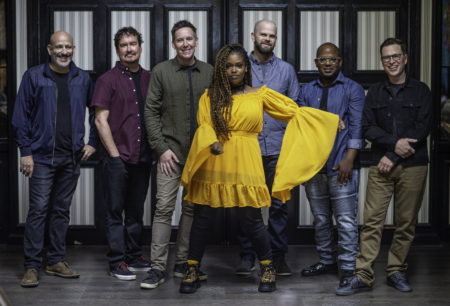 After that auspicious start, Anders Osborne brings in the New Year for the East Coast at d.b.a. Then the mighty Galactic takes the stage at their very own Tipitina's to welcome 2021 for the Central Time Zone. For those setting their clocks to Mountain Time, Rebirth Brass Band counts down to midnight from The Maple Leaf. And the West Coast can watch Dumpstaphunk bring this dumpster fire of a year to a close from The Howlin' Wolf.
Our favorite host and former Tulane English professor, John Goodman, will oversee New Year's Eve in New Orleans. In addition to the amazing entertainers we've mentioned, special guests Ani Di Franco, George Porter Jr., Kermit Ruffins, and Big Sam are also expected to drop by.
Should be a (virtual) blast.