Walter Wolfman Washington
Walter "Wolfman" Washington (1943 —2022) was the first Music Inside Out guest who arrived with his own cocktail. He was wearing a red ensemble and gorgeous red shoes, and he carried his instrument quietly, the way a samurai might carry his sword. That guitar was the reason we were in the studio — the reason why he entered most rooms. And, like any warrior, he was in total command of himself while, at the same time, easy peasy about doing whatever might be asked of him. He seemed … satisfied. When the mic opens, there's the distinct sound of him chuckling and ice cubes tinkling.
Back then, Mr. Washington's latest album, My Future Is My Past, had just been released and he could not have been more pleased. And when he began to play his chords, solo, singing "I've got to see you, somehow, Not tomorrow, but right now," we couldn't help but feel the same way. "Steal Away" was a Jimmy Hughes hit, but it was Mr. Washington's song. Mr. Washington also gave new life to David Egan's tear jerker "Even Now," performing that ballad so beautifully on record with Irma Thomas and later on the road with Erica Falls.
The My Future is My Past album — produced by Ben Ellman of Galactic — as well as Mr. Washington's previous albums, Blue Moon Risin', Doin' It the Funky Way, and Howlin' Live at d.b.a., bespoke an emotional range that made him as easy to believe in song as he was in life. His vulnerabilities and curiosities and strengths were for all to hear, making him essential to Johnny Adams and so many other New Orleans treasures who wanted him by their side.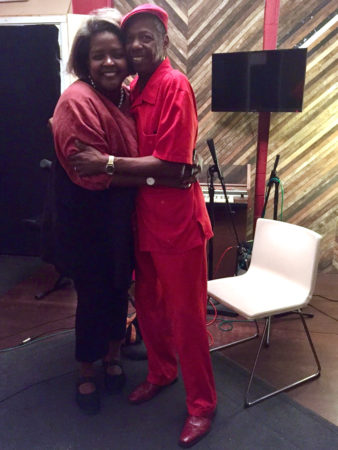 He told us that as a young man, he used to sleep with his guitar — hoping that they might continue their conversation on yet another level of consciousness. If they were as close as all that, then the guitar was lucky. When Mr. Washington talked with us in the studio, he spoke like a man who had lived fully, loved deeply and met his moment in time with grace. Listen to everything he ever recorded. There won't be another like him.
Gwen Thompkins