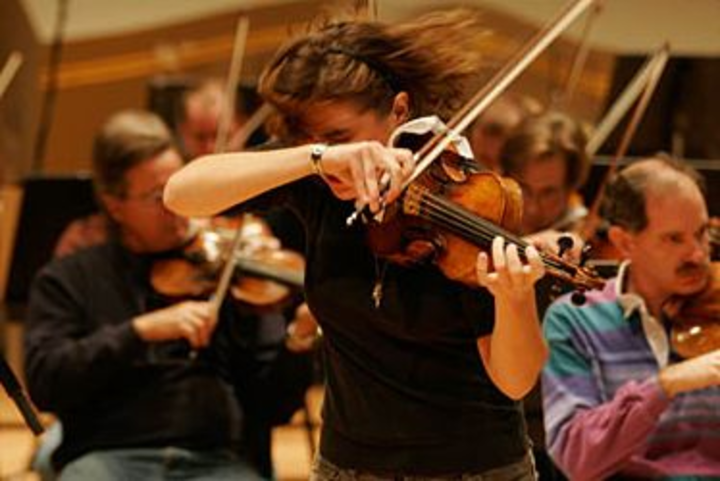 Nadja Salerno-Sonnenberg
Music for the New Century and Final Frontier
For over 35 years Nadja Salerno-Sonnenberg has celebrated a "blue chip career" as a classical violinist. In 1981, at just 20 years old, she was the youngest-ever recipient of the Walter W. Naumburg prize for violinists. Her emotional approach to the instrument has both shocked critics and earned her the adoration of fans in every corner of the globe. She has played with some of the world's most renowned orchestras, and she was the music director of the New Century Chamber Orchestra in San Francisco for nine seasons.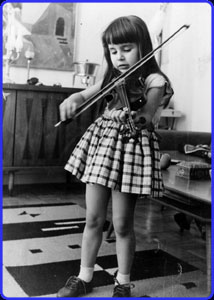 At Juilliard, she shared a piano class with Wynton Marsalis, and she now finds herself in his hometown, as full-time faculty at Loyola Universty's School of Music in New Orleans. At Loyola and in San Francisco, Salerno-Sonnenberg has been a proponent of the conductor-less orchestra — which forces musicians to listen to one another, keep their own time and find their own way to achieving the spirit of the compositions they play. "I think its the highest form of music," Salerno-Sonnenberg says.
Here in New Orleans, Nadja Salerno-Sonnenberg has also continued to educate the next generation of musicians through her work with Artist Corps New Orleans, a non-profit dedicated to connecting artist with students in local schools.
From Seven Hills to Cherry Hill
Nadja Salerno-Sonnenberg was born in Rome in 1961. Eight years later, she and her grandmother, Rosa Salerno, would board the ocean liner Michelangelo and sail to the US. The rest of the family soon followed (Nadja's grandparents and mother had once lived in Philadelphia, but returned to Rome before she was born).
Back in Rome and in the US, the entire family was musical. Rosa Salerno played kazoo. Her grandfather, Papa John, played trumpet and even led a small ensemble in New Jersey called "John Salerno and His Band." Her mother, Josephine, played piano, while her brother Eric sang and played cello and piano. But it was ultimately because of Nadja that the family returned to America — Nadja's violin teacher in Rome said she showed great promise as a violinist and needed formal training.
A Sonic Melting Pot
The move from Rome to Cherry Hill, N.J., introduced an eight year-old Nadja and her family to uniquely American sounds — the crack of baseball bats and bubble gum popping. But the soundscape of their house blended Old and New World music. She tells Gwen about binge-listening to Rimsky-Korsakov's "Scheherazade" on the record player. Here's how she described what else she was hearing at home:
You are subject to the rules of the house when you are young. My mother was a big Broadway fan, so there were always these kind of albums on. I started to absorb, I don't know, "Hello Dolly," with my horrible accent, but I knew that song. My mother loved Jascha Heifetz. That is the violinist I listened to while I lived in that house. (Arthur) Rubenstein. My grandmother loved the Neapolitan songs that just reach into your heart and pull it right out. Soulful music … My grandfather … was all about opera and my brother loved Led Zeppelin. So this is what was going on in my house along with all that American stuff.

Nadja Salerno-Sonnenberg
Connect With Nadja Salerno-Sonnenberg
Facebook | Webpage | Wikipedia | New Century Chamber Orchestra | Artist Corps New Orleans
Magic in Music
Nadja Salerno-Sonnenberg is currently a resident artist at Montage Fine + Performing Arts Series at Loyola University of New Orleans.
Salerno-Sonnenberg calls teaching and sharing the lessons of her more than 30-year career "the most important work I've ever done." Much of understanding music is "detective work," Salerno-Sonnenberg tells Gwen. This is how she trains music students to approach playing a composition. Reading the notes is only the beginning:
So the entirety of a work – whether it is a song or a tune, a concerto, a sonata, a symphony, an opera – is a big mystery. The challenges that the player faces are technical and analytical and, at the end, emotional. You have to take it in steps. Even if you feel very emotional about a piece that you have yet to learn.

You have to start with the technical. You have to learn the notes. You have to learn the score. You have to learn how to do that. Now that is very, very hard depending on whatever your technical challenges are.

Nadja Salerno-Sonnenberg
Why Can't I Play This?
You have to figure out, if you are playing a passage and it is out of tune — it doesn't sound good, I don't know, you can't get it up to tempo — whatever the challenge is. That is when you have to become the detective. Why can't I play this? Is there something physically wrong with me? That is not ever the case. It could be something very simple like one shift in a passage that has maybe 400 notes. It could be arpeggios and runs going up and down the fingerboard. You can't play it but it could actually be one shift that is screwing up the whole passage. That is why I try to teach, why can't you play this? What is it? Just playing it slow, put the metronome on. It is not going to solve the problem. Where is the problem? Then, figure out.

Maybe if you lifted your left hand up a little bit. Maybe that will make the shift easier. Sometimes it is so logical. You have to get deeper and deeper in to figure out where the problem is. Let's say you do that and you learn all the notes and you can play all those notes perfectly. Then, what are you going to do with this piece?

Nadja Salerno-Sonnenberg
Inspiration v. Perspiration
If you play all those notes perfectly and you do nothing with it musically, what is the point? Now you have to analyze the music. Where is the beginning of this phrase? Where does this phrase develop? Where is the climax of this phrase? How do you segue into the next? That is a small little phrase. Then you keep pushing back. Pull out. Look at the big picture. How does that one phrase fit in to that entire movement? How does that moment fit into the whole concerto?

Then, at the end, you have to say to yourself, how do I feel about this piece and how can I convey that? That is the emotional part that is the part where teachers don't teach that. They don't inspire that. Most teachers. You look at the sequence of events of just trying to learn, from nothing to performance of one piece. It is wonderful. It is like building something from nothing. Building a fantastic meal from nothing. Making bread from nothing. Building a house from nothing. Then looking at the result.

Nadja Salerno-Sonnenberg
Speaking in Strings
In 1999, Nadja Salerno-Sonnenberg was the subject of the Academy Award-nominated film "Speaking in Strings." The film follows her life in music, chronicles her struggle with depression and provides insight into her unique and ferocious musical style. Check out the trailer below…
Playlist
Here's the playlist for this show. Please refer to it when you visit your favorite music retailer.