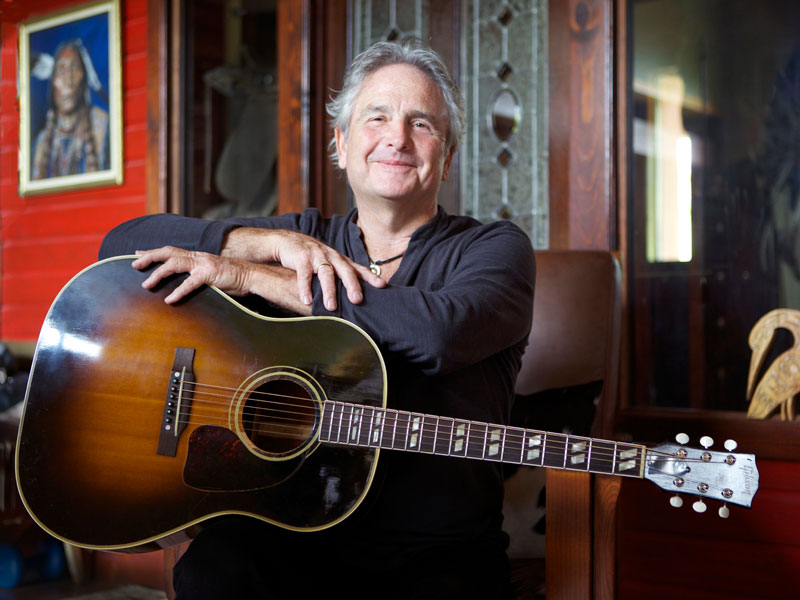 Spencer Bohren
Travelin'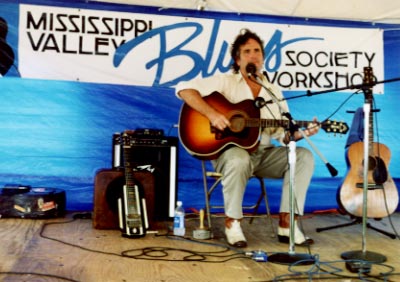 Singer-songwriter Spencer Bohren (1950-2019) was raised in Casper, Wyoming, in the long, quiet lead up to where the Great Plains end and the Rocky Mountains begin. Hot springs and waterfalls in the region signal strong underground forces at work. Geologists say the area will look vastly different in the eons to come. But right now the land is moving as land usually does, imperceptibly, under the feet of people who'd swear there was nothing going on.
As a child in the 1950s and '60s, Spencer believed that the people of Casper were even more intransigent than the land appeared to be. His and other families attended church a dozen times a week at Calvary Baptist and secular music wasn't welcome in many households. At the age of 14, Spencer was restless. He knew he couldn't stay.
"There was this artist who was a couple years older than me — like all my friends — and he drew this picture of a guy with shaggy hair," Bohren told Gwen. "And he had a guitar on his back and he was wearing sandals and there is dust on the road and he was walking away … I think that image really had a lot to do with my wanting to be a traveling guitar picker. In the end, I did it on the road with four kids and it was a very much larger version of the troubadour walking down the road. I think that was my inspiration … I believed in musicians and art and I knew that was the real reality for me. "
Living In Motion
Over the next 55 years, Bohren made other homes for himself — in Colorado and Louisiana and even back in Casper for a while. But he actually lived in motion — applying the practical skills he'd learned in Wyoming to any number of scrapes that he, his wife Marilyn and their growing family met along the way. Not many people can keep a 1955 Chevrolet Bel-Air on the road for seven straight years, pulling a silver bullet Airstream trailer. But he did.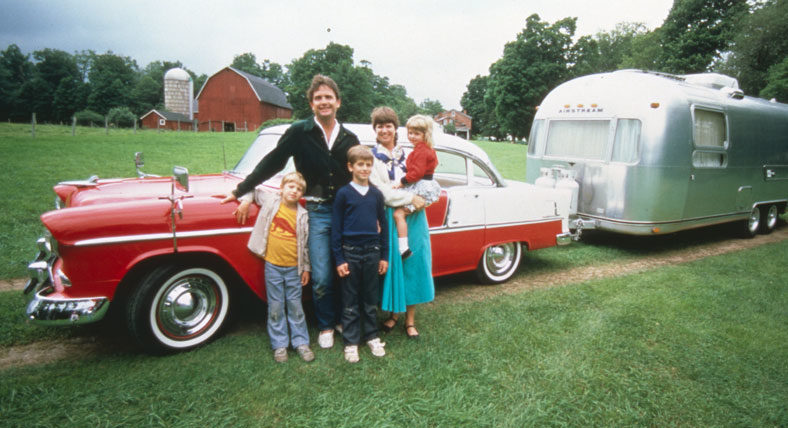 "I could rebuild that engine on the side of the road with a flashlight in my mouth," Bohren said. Turns out, the car and trailer said as much about the Bohren clan as the music Spencer played, underscoring a love of unusual things, time-tested stories, Americana, open horizons and possibility. "We were just outlaws," he recalled of their meanderings in the 1980s. "Marilyn did all the bookings. She booked gigs all over the world from pay phones. There were no computers, or any of that."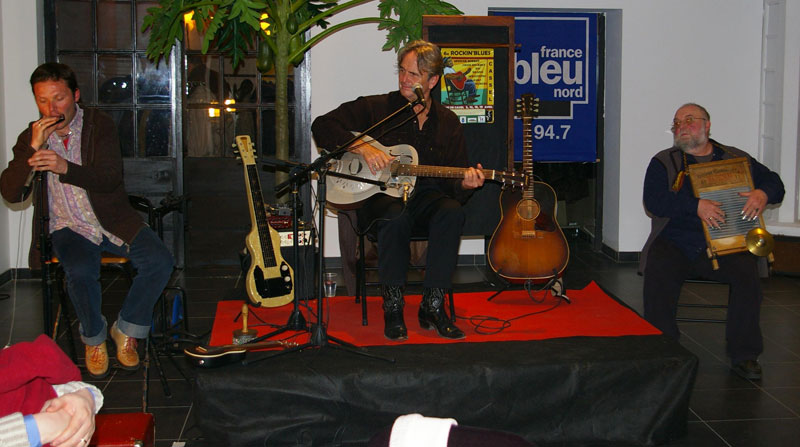 The Bohrens met lots of friends on their travels from year to year, music lovers who appreciated Spencer's songwriting and his take on American folk and blues traditions. Marilyn scheduled a Southern sweep in winter and the family headed North in the spring. They saw the redwoods, the Atlantic seaboard, the Gulf Coast. Then there were the solo trips Spencer made overseas — more than 140 tours to Europe and Japan. "It's been such an amazing thing to go over there, on their dollar, and find that language sometimes doesn't even matter," Bohren recalled. "I can communicate — simplicity communicates."
Recordings
Looking back, Bohren said he probably should have begun recording music earlier than he did in 1983 and maybe not stressed his blues playing over the folk songs. But he was proud of his mastery of the lap steel guitar, of his harmonic singing, of his guitar students and of his reliquaries — art work that combines found objects and a craftsman's attention to detail. They're on his website, along with images of the Bohren family, perhaps his greatest achievement.
During his lifetime, Bohren released nearly 20 albums. And in his final months, sick with cancer, he recorded songs for future releases with his son André and a variety of other New Orleans-based artists, including Aurora Nealand, Alex McMurray, Jim McCormick and Paul Sanchez.
Musical Legacy
"I want to record my repertoire,' Bohren told Gwen at Marigny Studios, where some of those sessions were taking place.
SB: That is a huge job, but I would like to rescue my repertoire from oblivion. It has been carefully cultured, cultured and cultured and I'm just going to record it.
GT: You mean your live performance?
SB: Just my songs. I've learned so many hundreds of songs that I haven't sung for years, but I know them all still. I know every one of them. But I don't think that will last. My brain is not, I'm not sure what to expect. I'm a mystery man right now. I bought a little vintage guitar — why would you do that in this situation? But Marilyn insisted because I have been looking for one of these for years. It finally shows up. I can't really do it. She says, "Buy that." So I'm playing this sweet little Gibson Kalamazoo. It's made in 1923, or something like that, and I'm in love.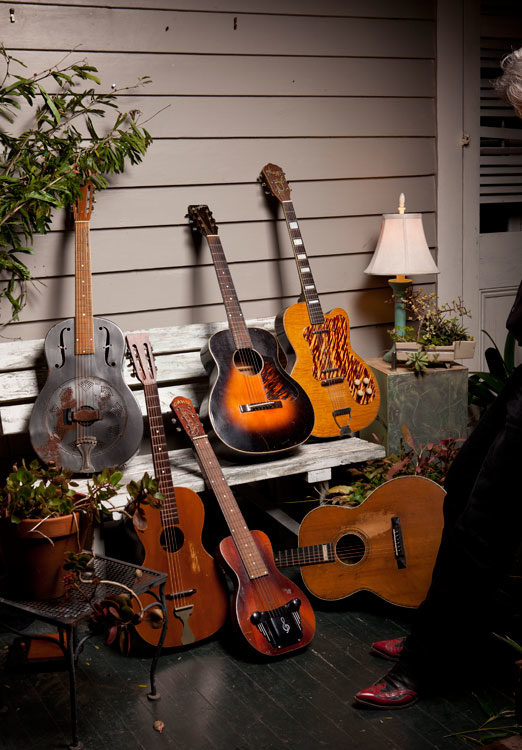 Only in New Orleans
This doctor said, "You have to cancel your schedule. Whatever is on your schedule, you have to cancel. I was like, "Well, doctor, I was going to do that. Just before you came into the room I was going to cancel Jazz Fest." And he looked at me with shock and said, "You can't cancel Jazz Fest!" And I said, "But I don't know if I can walk on the stage." And he said, "We will make sure you can walk onto that stage." And (New Orleans Jazz and Heritage Festival producer) Quint Davis threw me four gigs, including an interview.

I'm not sure how I pulled it off, because I really could just barely get to the stages. But when I walked out and the people, the love, and the concern underneath the audience was palpable. And I could feel myself, as like a transfusion. I could stand a little straighter. Jump higher. Leap tall buildings. I will never understand how I was able to do it, but I had three, four just stellar performances. Then I went home and collapsed for several days.

Spencer Bohren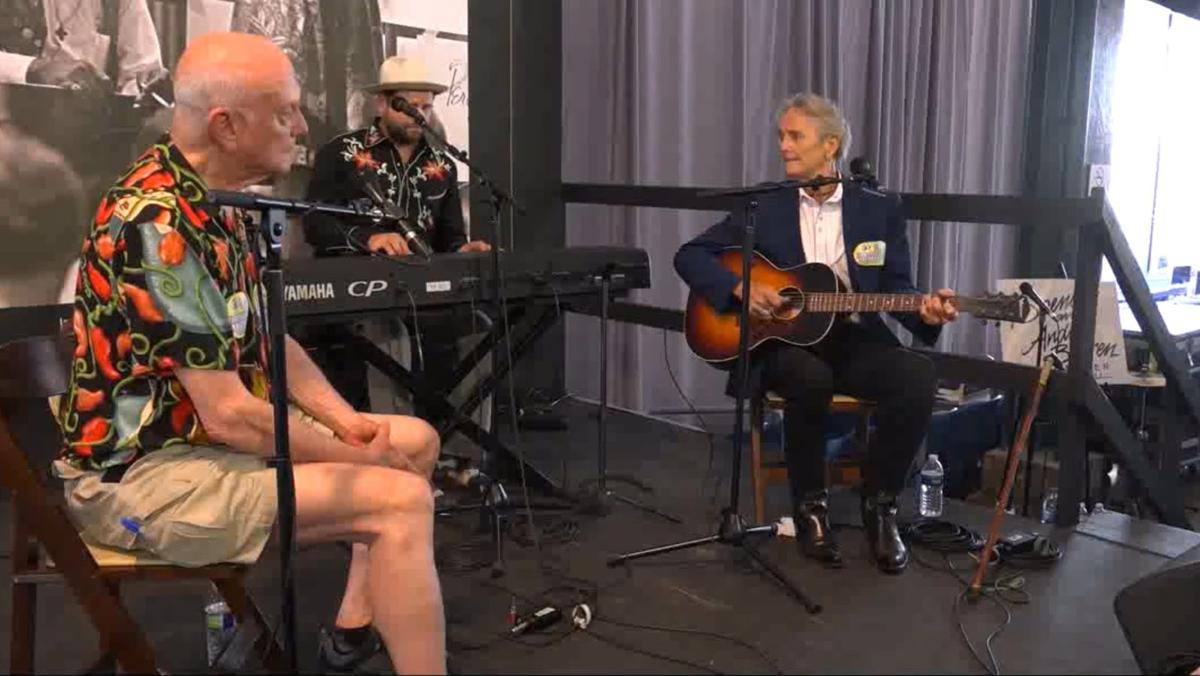 Playlist
Here is a playlist of the songs featured this hour, most by Spencer Bohren. Please support your local musicians and record stores.
Website
Check out Spencer Bohren's website.
---
Reliquaries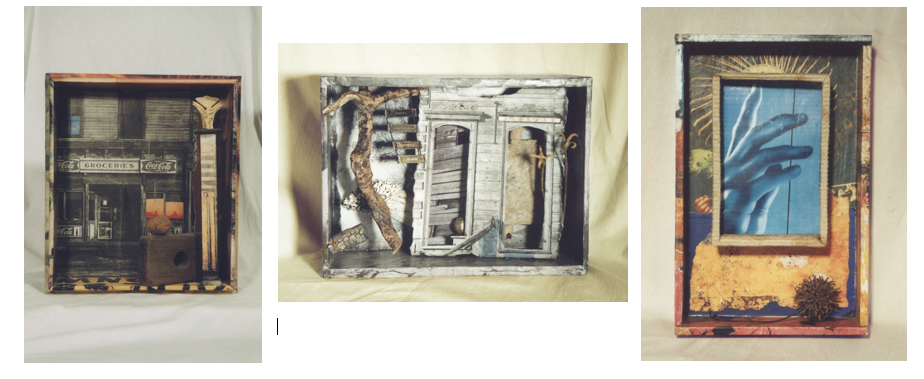 These are some of the boxes Spencer Bohren made on his travels. He called them "reliquaries," and showed more than 20 last spring at the New Orleans Jazz and Heritage Foundation. We asked his wife Marilyn how many he made in total.
"I see 46 right off around the house, some kept in a magical cupboard that we called the Cabinet de Curiosities … It's kind of a peek into Spencer's visually creative mind! My favorite changes from time to time. Right now, it is one that is not photographed, but it has a big grasshopper perched tightly into a space in the box."
"I Know Nothing About Music"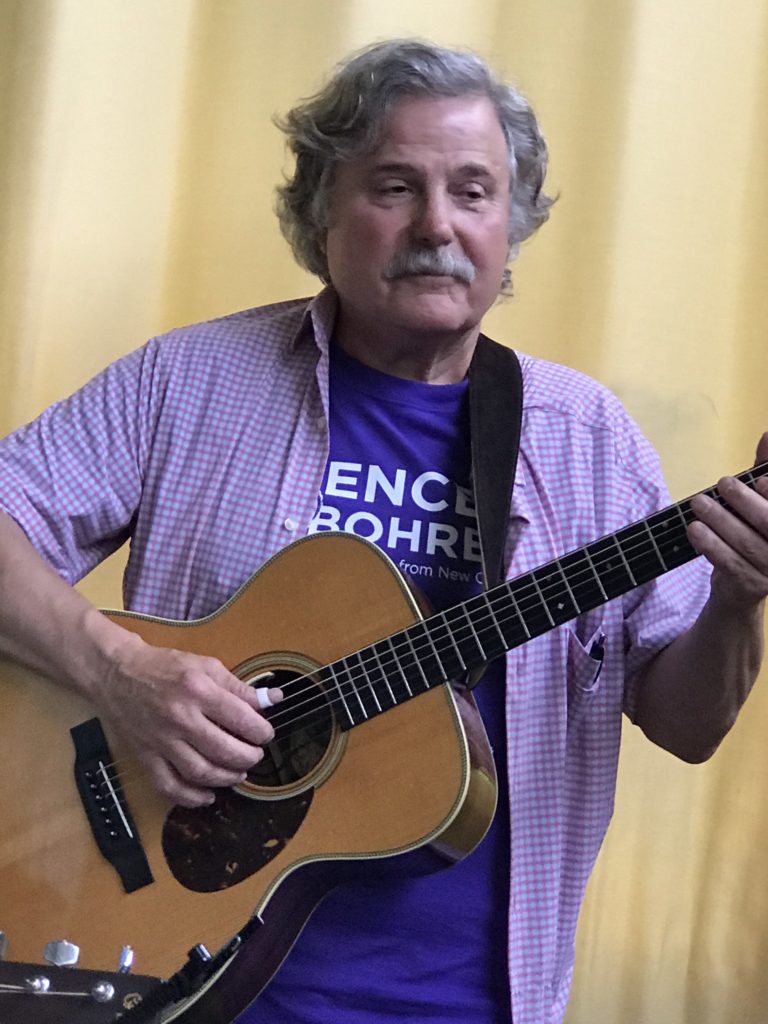 Spencer Bohren was not always to be believed. While it's true that he didn't learn to read music, Bohren was a beloved teacher. From 2002 to 2018, he taught adult music students at the Fur Peace Ranch in Ohio. Jorma Kaukonen — of Jefferson Airplane and Hot Tuna — extended the initial invitation. Kaukonen and his wife, Vanessa, own Fur Peace. Bohren "developed a strong following of students up there," his wife Marilyn recently wrote. He also had a circle of devoted students in New Orleans. They included Tulane historian and fan Larry Powell, who interviewed Bohren on the Allison Miner Music Heritage Stage at the 2019 New Orleans Jazz and Heritage Festival, and Robert Eustis, who hosted a hootenanny for his teacher.
Post Script
SB: I'm working with The Write Brothers, who are three great songwriters.
GT: That's Jim McCormack … and Alex MacMurray …
SB: … and Paul Sanchez. And I have really enjoyed that, because these guys … I think of them as serious songwriters. I think they probably think of me the same way, but I've never thought of myself that way.
Since our conversation with Spencer Bohren, the Write Brothers have released Into the Sky, featuring Bohren on four tracks. In an interview with OffBeat magazine, his son Andre recalls "He played guitar on 'Say It Like You Mean it' and 'Making a Life for Myself' and sings the bridge on that. The very last thing he recorded was 'Every Highway.'"