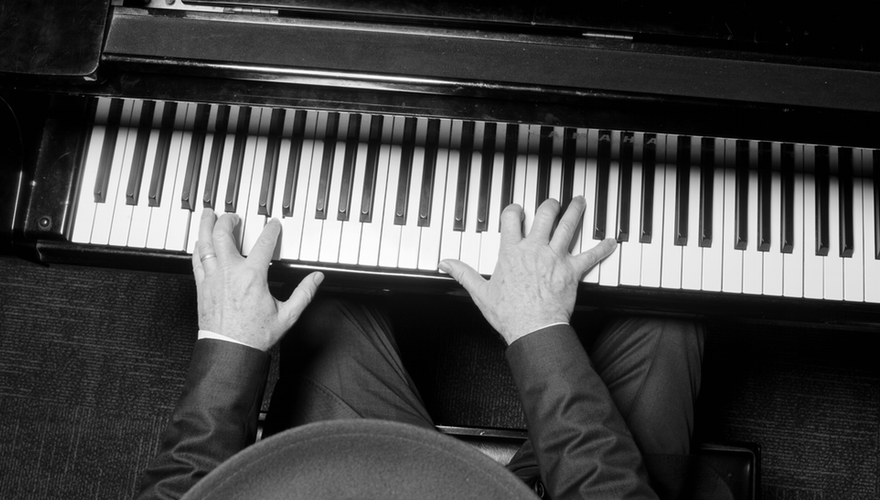 David Egan
Singer-Songwriter
(March 20, 1954 — March 18, 2016)
Our afternoon with David Egan at KRVS in Lafayette is one of my favorite afternoons, ever. Having listened to nearly all of what he'd written or recorded, I'd come from New Orleans with an iPod filled with Egan songs and a pile of questions.
Egan didn't rush his answers, which may be why we spent hours together in the studio. He sat at the piano, with a noticeable disinterest in playing. But he seemed comfortable there. He also seemed unusually present — in the way people are when they don't know what's going to happen next but give themselves over to what's happening now. That made Egan a good conversationalist. Talking with him was like dancing the foxtrot — quick-quick-slow.
"People give me the business because I'm a slow talker," he said. And he was. Egan thought before he spoke. He also thought while he spoke and retained the right to re-think an answer if he wasn't satisfied. He was positively Proustian in how lost he could become in a memory. One of the best moments of the show is when Egan tells a six-minute story (a lifetime in radio) and midway through asks, "What was the question again?"
"Please No More"
He never mentioned that he was unwell. Or had been unwell. But, in retrospect, maybe that's what Egan was saying all along. On an impulse, I asked him about dying:
GT: I saw Kris Kristofferson on the Charlie Rose show a long time ago. Charlie Rose asked him, "Do you have a song lyric that would fit on your tombstone?" And Kristofferson said, "For the Good Times." Which is a beautiful answer … Is there a song lyric that you think might fit on your tombstone?
DE: … Jack Lemmon and Walter Matthau (were) famous friends to the bitter end. In their waning years, Lemmon and Matthau were walking down the street and Walter had a heart attack on the street corner. And Jack took his jacket off and put it under Walter's head — he told this on Charlie Rose. And he said — you say some stupid things when you are in a panic — and (he) said, "Walter, are you comfortable?" The guy is having a heart attack. Walter says, "I make a living." It is like, what a spirit.
GT: Never underestimate the power of shtick.
DE: To the end. No I can't think of, I wish I had a master song list in front of me. Like some title.
GT: It could be anything. You could look through my iPod.
DE: [Looks through iPod] "Please No More." First title I saw, looked pretty good to me.
GT: "David Egan, 'Please No More' and the dates." There you go. You have laid to rest all of your planning for your mortal end.
Who's Keeping Score?
Joe Cocker was perhaps the most famous singer to record "Please No More." Like many of Egan's songs, it was about breaking through to wisdom after everything else gets broken in a relationship, including the furniture.
We start a fight, who knows what for?
Who knows who's winning and who's keeping score?
You say, "It's all right" as you slam the door
All I can say is, "Please no more, please no more"
I've had enough after how I swore
I'd never give you up
Loving you was easy but one thing's for sure
It ain't me, it ain't me, you're trying to please no more
But that part of our conversation never made it into the show. Nor were we able to include the many times Egan praised his musical collaborators — in particular, Buddy Flett and the groups A Train, File, and Lil' Band O' Gold. There just wasn't enough room. We even cut the story of Egan regaling his family with an all-gibberish version of a love duet in Puccini's "Madame Butterfly." In Italian, "Bimba, Bimba, non piangere" translates to "Sweetheart, Sweetheart, do not weep." Who knows what Egan might have sung. But what he lacked in fluency, he said he made up for with bombast.
It's amazing how fast an hour slips by. What remains is the sweet conversation that aired, as well as Egan's deep legacy of songs and memories. That will have to do, for now.
Music for Grownups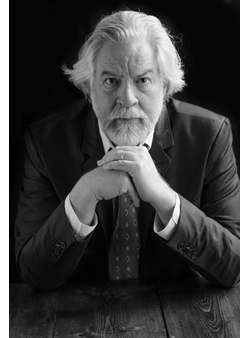 Songwriters talk about a song being "honest." And according to David Egan, that's all about telling the truth about our battles and our triumphs — our loves and losses.
"We write music for grownup people," he said. "Grownup music for grown-ass people."
They're the people you might see at the gas station, or in the grocery store. Or in the mirror.
David Egan lived in Lafayette where he made his living writing songs for those grown-ass people, but he was raised in Shreveport, in what he calls "a symphony family" — with an opera-singing mother and an orchestra-lawyering father.
There he'd rub shoulders with visiting conductors and ballet dancers at his parents' cast parties that went on 'til the wee hours. On school nights!!
Life took him to LSU, and Nashville, and Denton, Texas for awhile before landing him back in Cajun country and the music circuit that has nourished him.
His big break came when Joe Cocker recorded the Egan song "Please No More" on the album Night Calls.
And in the years since many of the great voices of American music have recorded David Egan songs: Percy Sledge, Etta James, Solomon Burke, Johnny Adams, Marcia Ball, and Irma Thomas among them.
He could be found playing piano and singing with the swamp pop supergroup Lil' Band O' Gold, with the likes of C. C. Adcock, Steve Riley, Jockey Etienne, 'Dickie' Landry, Tommy McLain, Lil' Buck Senegal, Pat Breaux, and John Troutman.
"A Symphony Family"
David Egan was raised in Shreveport where his father, an attorney, worked to help arts organizations and his mother sang opera. Jasmine Egan spent decades as a lyric soprano — earning the respect of many fans in Louisiana and beyond.
Her career took her across the globe — where she was befriended by the likes of the former first lady of the Philippines (and well-known shoe collector) Imelda Marcos.
"You never know when your past life comes back to haunt you," she told the Shreveport Times in 2006. "What a joy this career was."
The Egan Family has shared some of Jasmine's music with us. Enjoy!
Wherever Puccini was adored, so was Jasmine Egan. Here, from Act 2 of Madama Butterly is the aria "Un bel dì:"
Songwriting As Modern Home Of Catharsis
David Egan credited his operatic home life with instilling a healthy respect for catharsis: that purging of emotions that Aristotle found so alluring in theater and which still informs just about three-quarters of daytime television in America.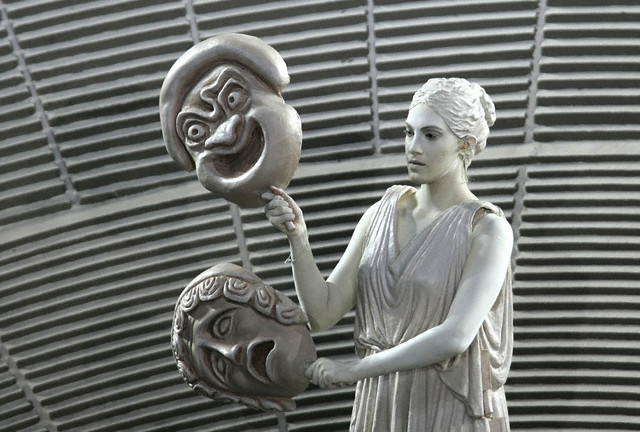 Face it, we love to see tragedy. So long as it's tragedy in someone else's life.
"That outpouring of emotion happens in opera and musical theater, but it also happens in Rock 'n' Roll and Blues," the songwriter told Gwen. "Having grown up in the opera and musical theater, it's a standard which I cannot always hit, but it's something I like to go for."
And Egan said that for catharsis to work, we have to recognize the truth in the art.
"When Tom Petty says 'Hey! Here comes my girl!' — at that point you just want to kick something." But not in anger, Egan said — in a slap-your-knee moment of recognition.

Solo and the Swamp
David Egan's eponymous album, his third and final solo work, was released in the summer of 2013.
Reviewer Brian Harmon says: "The twelve self-penned numbers are immersed in a wonderful concoction of very late night after hours Jazz and gloopy New Orleans swamp music.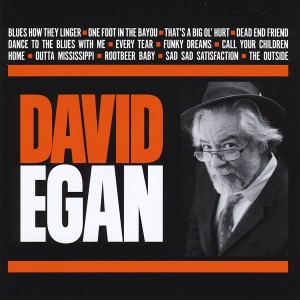 "His vocals possess the svelte and elegant languor of Charles Brown and Nat King Cole; he also displays a marvellous understanding of the latter's Jazz orientated piano phrasing."
Writing in Offbeat, Clea Simon says: "Egan's fallback sound is spare and cool — more Mose Allison than Professor Longhair — but within those parameters, he finds variety aplenty.
"When Egan switches to Wurlitzer, he heads to the swamp."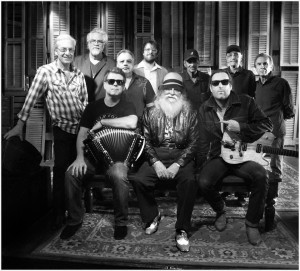 Meanwhile Egan was palling around with other graybeards who called themselves Lil' Band O' Gold. The personnel read like a Who's Who of the swamp set: CC Adcock, Steve Riley, Jockey Etienne, 'Dickie' Landry, Tommy McLain, Lil' Buck Senegal, Pat Breaux, John Troutman.
Give them a listen. We have two tunes from the band's album "The Promised Land," both penned by Egan.
Here's "Dreamer:"
And "Spoonbread:"
Playlist
Each week we make a playlist available — letting you know all the music heard during the broadcast. Our hope is that you might save this on your phone or print it out and take it with you the next time you visit your local record store. Thanks for supporting the musicians who make the music we all love.
Photo Credits

The photo montage on the home page and the photos used throughout this page are by Lafayette photographer Denny Culbert.
---
Thanks also to John Sellards, Jasmine Egan and Beverly Egan Houston, and the staff of KRVS-Radio Acadie in Lafayette, Louisiana.