Sylvan Esso
Mood In Motion
Sylvan Esso began as two people who couldn't sit still. In 2013, the singing songwriter Amelia Meath and the performing producer Nick Sanborn were in North Carolina, working with bands that didn't enjoy touring. Luckily for them, they found each other. But Meath and Sanborn share more than wanderlust. Theirs is a common musical sensibility that leans toward tender folk harmonies passing through an electronic soundscape. The hard-working duo has released two well-received albums, an EP, and a variety of singles. See? They still can't sit still. But the work is paying off in a spectacular way. Sylvan Esso has a growing audience on television, online, and at concerts worldwide. They're in motion — devotedly and relentlessly so. They've played New Orleans at least three times.
Now about that name…
Video gamers already may recognize "Sylvan" as a wood sprite who roams a musical forest in the popular Superbrothers game, Sword and Sworcery. Sanborn also says he and Meath were inspired by characters from the Lev Grossman book series called The Magicians. Wandering mythical creatures inform much of the duo's creative aesthetic — adding an otherworldly quality to their music. But Meath says the most compelling reason why there's an "Esso" in "Sylvan Esso" is that the words flow so well when spoken together. Like a secret password to an enchanted kingdom, the name smacks of magic and mystery. Sylvan Esso's songs, meanwhile, seem like something more than words put to music. They're moody and atmospheric soundscapes in which the listener is the sylvan — roaming unspoiled terrain.
Play It Right
Sylvan Esso's first release was "Play it Right", a song Meath wrote and sang originally with the harmonic trio Mountain Man. The trio toured in 2018 in support of their release Magic Ship. That same year Mountain Man gave an NPR Tiny Desk concert and appeared at Preservation Hall.
Connect with Sylvan Esso
Website | Instagram | Facebook | Twitter | SoundCloud
Playlist
Every week, we provide a playlist of the music heard on our program. Please support your local musicians and record stores.
Swords, Sorcery, and Songs
It seems fitting that the name Sylvan Esso is inspired by a video game. Both Amelia Meath and Nick Sanborn are savvy gamers and love not only playing Sword & Sworcery, but also listening to its musical score. Sword & Sworcery made its debut in 2011 and Canadian composer Jim Guthrie has since released the soundtrack on LP and CD.
Video game music and Sylvan Esso's discography suggest an infinite palette of sounds available in electronica. Songs can be at times sparse or soaring, ethereal or visceral, gently harmonic or downright jarring. Sanborn grew up when 8-bit consoles were common in family rooms nationwide. Now he's maestro to an even more elaborate synthetic orchestra. And as he's been inspired, so have others. The classical music world has become increasingly interested in performing video game soundtracks. It's not unusual to hear the musical scores of the Legend of Zelda or even Super Mario Brothers performed in concert by a symphony orchestra.
Here's the Swedish Radio Symphony Orchestra playing an original Super Mario Brothers composition, by Mahito Yokota & Koji Kondo:
Parade
Happy accidents happen all the time in interviews, but it was a special treat to be interrupted by the sounds of a street parade outside Marigny Studios. A passing brass band, newlyweds and their friends could not have made a better segue way to Sylvan Esso's 2018 release called, Parad(w/m)E: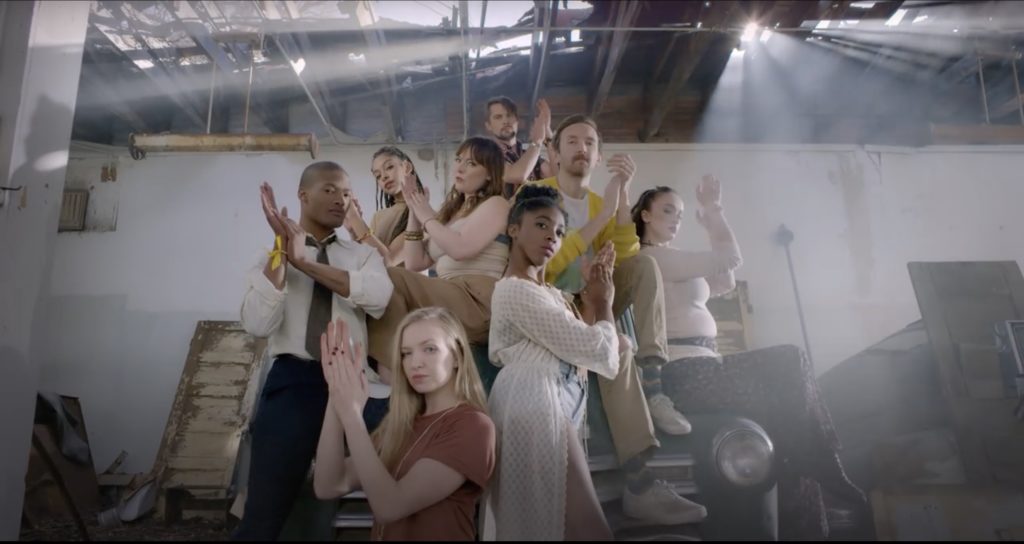 Echo Mountain Sessions
After finishing the 2017 album, What Now, Sylvan Esso returned to the studio to re-imagine some of their previous electronic releases with a full band. The result is an EP called the Echo Mountain Sessions, which features Meath and Sanborn backed by members of indie bands Wye Oak, The Mountain Goats, Hiss Golden Messenger, Mountain Man, and Megafaun. Look for videos of the Echo Mountain Sessions at NPR's All Songs Considered.
WITH
In 2019, Nick and Amelia went on a seven-day tour with a group of ten musicians … an idea born of the Echo Mountain Sessions. Nick explained the process to Indyweek.com's Brian Howe:
"After the second album, we were kind of in this weird space where we lost sight of what the record was. It happens to a lot of bands … you kind of lose the forest for the trees. We had this idea to get our friends together and teach them the songs. It just seemed like a fun excuse to hang out, but then it reminded us what the songs were in the first place, why we wrote them."
That "fun excuse" resulted in a concert film as well as an album —appropriately titled WITH — released in April of 2020.
"There Are Many Ways to Say I Love You"
By the time Fred Rogers retired from producing his long-running PBS series, Mister Rogers' Neighborhood in 2001, he'd made millions of friends among children and adults. A documentary about his life's work in the service of kindness is in theaters now. But there've been other tributes to him over the years, including a puppet show in Minneapolis for which Sylvan Esso recorded a song. Their version of Rogers' "There Are Many Ways to Say I Love You," is one of their rare covers and captures the sweetness of the original. Amelia Meath says the enduring connection that people feel toward Mister Rogers' Neighborhood, suggest that the songs on the show may be more meaningful to adults than they are to children.
"You don't understand it as much until you are an adult," she told Gwen. "I think he's writing songs about preparing people to be citizens of the world."
Nick Sanborn agreed. "He really is one of the first voices that let me know — before I had the words to say it — that carrying the light of humanity is a choice you have to make. That it isn't automatic. Those are decisions — and they're not easy decisions. They're hard decisions. I think that's such a complex thing to tell somebody, especially a young person. And for almost every one of these songs, that's basically the theme."
Free Love
If 2020 had a bright side, it's that Sylvan Esso released not one but two new albums. In addition to the live concert album WITH, there's Free Love … a recording that was meant to be supported by a massive tour. As Nick Sanborn told EW.com's Brennan Carley, that obviously didn't happen:
"You plan out in your mind like, 'Oh, this is going to be it. We're going to break through … So it's obviously, on our tiny little scale, a huge bummer that all of that went away."
The 2020 pandemic may have put the kibosh on a Bonnaroo appearance, but it didn't deter Nick and Amelia from performing. "From the Satellite" is a series of three virtual performances, recorded live in their North Carolina studio. "From the Satellite" has songs from Free Love as well as What Now, and goes all the way back to "Hey Mami." SE promises each night will be different from the others, with a few surprises thrown in along the way.
There's more info on-line, but in the meantime, here's a sampler: