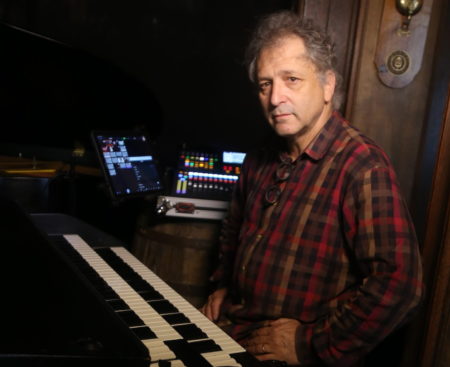 Forget Six Degrees of Kevin Bacon
It's more fun to play Three Degrees of Torkanowsky
As a piano player and band leader, David Torkanowsky is equally comfortable pushing the edges of jazz, funk, blues and rhythm and blues. Aside from his solo projects, Torkanowsky has collaborated with so many musical legends — Irma Thomas, Allen Toussaint, Danny Barker, Earl Turbington, Tony DaGradi, George Porter Jr., Zigaboo Modeliste, Dianne Reeves, Rickie Lee Jones and Errol Garner, among them — that he now enjoys his own legendary patina.
Torkanowsky's five-decade musical career began before he was born. His father, Werner Torkanowsky, was maestro of the New Orleans Symphony for more than decade. His mother, Theresa, was a flamenco dancer who performed in Spain with the great Carmen Amaya.
Torkanowsky says there's a difference between a piano player and a "pianist." That word, he says, pertains more to people who can handle Chopin and Liszt. Torkanowsky has made his own imprint on jazz as a piano player, beginning well before his training at the Berklee School of Music in Boston. He says Berklee taught him a lot. But, he says, the real masters who schooled him in the art of performance were home-grown right here in New Orleans.
"The reason this music was born here is because this was the nexus of culture," Torkanowsky says. "This is the place where the confluence of African and European musics happened. That's what jazz is. So, in my own upbringing, I had a confluence of African rhythm and European melody and harmony in my own house … so maybe bringing that to the table is what made people say, 'Oh man; white boy can play.'"
Learning From a Master
In a 2001 article in OffBeat Magazine, Torkanowsky recalls first hearing Ellis Marsalis play in New Orleans clubs such as Crazy Shirley's on Bourbon Street and the Autocrat Club on St. Bernard Avenue. Later, the pianists would substitute for each other at various gigs. Although Tork and Marsalis rarely played together, when they did Torkanovsky says it was eye-opening:
Never have my inadequacies as a pianist been so concentrated in one moment as when I played with Ellis Marsalis. I'm Ellis's unworthy disciple.

Oct. 1, 2001 OffBeat Magazine (Geraldine Wyckoff)
Connect with Torkanowsky
Lagniappe
Here's a video made by our friends at WWOZ of Dave Bartholomew celebrating his birthday with David Torkanowsky, Cosimo Matassa, Ron and Don Bartholomew, and the late Bob French – on George Ingmire's "New Orleans Music Show."
Dave Bartholomew celebrates his birthday, from George Ingmire on Vimeo.