Fats Domino
(1928-2017)
The Founding Father of Rock 'n' Roll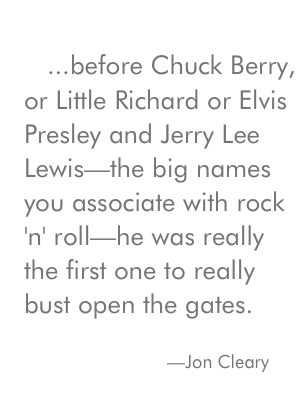 At first, there wasn't a name for the kind of music that Fats Domino played.
He called it rhythm and blues. But Domino's songs stretched beyond that category.
In the late 1940s, Domino was working at a mattress factory in New Orleans and playing piano at night. He'd just gotten married … and both his waistline and fan base were expanding. That's when the bandleader Billy Diamond first called him "Fats" — and predicted he'd have an outsized career.
The owner of Imperial Records heard Domino sing "Junker's Blues" at a club in the Ninth Ward, and signed him right off the bandstand to a recording contract. Producer Dave Bartholomew was there. He said Fats was rocking the joint with the tune that would become "The Fat Man" — Fats' first million-selling record.
"And he was sweating and playing and he put his whole heart and soul into what he was doing. And people was crazy about him, so that was it. And we made our first record, The Fat Man, and we never turned around." (From an interview with Bartholomew housed at the Hogan Jazz Archive at Tulane University.)
[Since the original airing of this program, Dave Bartholomew has also died on Sunday, June 23rd, 2019 at the age of one hundred.]
It's not that Domino had invented something new. He was playing Rhythm and Blues, which—after the torch songs and ballads of war time—was a return to shaking it on the dance floor.
Fats Domino passed away October 25, 2017 at his home in Harvey, LA, on the West Bank of the Mississippi River, not far from New Orleans. He was 89 years old. Fans in New Orleans and around the world have mourned the loss of the musical genius and continue to commemorate his life in music.
More on Fats Domino: Rock 'n' Roll Hall of Fame | iTunes | Facebook | Singles Discography | Playlist
Find out how you can support Music Inside Out.
The Domino Effect and the Integration of Popular Media
R&B was the recording industry's fancy new handle for what had been called Race Music — songs intended mostly for black audiences. But white people like to dance too. And who ever heard of rockin' to Jim Crow?
So R&B songs began getting play on white radio stations nationwide. Not every white station, mind you. And often late at night, after many segregationists had gone to bed.
But for those young people who tuned in, it was just like Roy Brown said — There's good rockin tonight…
Adding Creole Seasoning to Hospital Food
Back then, Roy Brown, Big Joe Turner & Fats Domino were seasoned musicians whose styles reflected other black musical influences. But Domino biographer Rick Coleman says white teenagers nationwide knew so little of Race Music or R&B that they were thunderstruck to hear a Roy Brown, or a Big Joe Turner, or a Fats Domino.
Those guys didn't sound anything like the chart toppers of pop music who were getting most of the airplay on white stations.
"Kids had heard a lot of very whitebread type of radio up until the time of the rhythm and blues era," Coleman says. "And suddenly they're hearing this crazy music with blaring saxophones and people shouting, you know, and said, 'What the heck is this?'"
According to Coleman, it was like adding Creole Seasoning to hospital food.

Rick Coleman is the author of the biography Blue Monday: Fats Domino and the Lost Dawn of Rock 'n' Roll.
Longtime Domino friend, musician & artist Haydee Lafaye Ellis, says Fats doesn't really appreciate his place in history.
"He has no idea of it. It has to do with his humilty. He knows he's good. He knows he was a star and is a star. But he doesn't have a sense of history. He's a very, very humble man. He gives total credit to God. He'll tell you that. 'God gave me a gift.'"
Home Movies
Jon Cleary shared with us this home video of him playing piano with Fats in the Summer of 2014. There's just something about that right hand…
My Blue Heaven
Fats Domino's forebearers came to the U.S. from Haiti and worked in the sugar cane fields around Vacherie, Louisiana. After the great Louisiana flood of 1927, the family moved to New Orleans, where Fats was born.
Rick Coleman says the Dominos were French-speaking and musical.
Music writer Ben Sandmel says that Domino's vocals are a lesson in the patois of Southern Louisiana. "It is almost like he is an English as a Second Language speaker. It is a very thick regional accent. His phrasing… it is like a Caribbean vocal style."
Take, for example, the way Fats sings the three words: "My Blue Heaven."
"He grew up in a semi-rural neighborhood," Sandmel says, "At that time the Lower 9 was semi-rural. If you listen to oral histories of people who recorded around that time there are a lot of thick accents and a lot of French-isms in the speech."
Blue Monday
Fats Domino did us all a favor and confirmed, as if there were ever any doubt, that "Monday is a mess."
"It maps a lot of people's experiences. It maps mine!" says Nick Spitzer, musicologist and host of the long-running public radio program American Routes.
The partnership between Fats Domino and producer Dave Bartholomew was not without rocky spots: Bartholomew preferred more sophisticated fare than songs like "Ain't That a Shame" and "I'm Walkin." (They only told part of a story.)
But neither man would have accomplished as much without the other. Domino had the chops and the charm, but Bartholomew's arrangements were the envy of Rock 'n' Roll.
And boy did they agree on their 1957 hit about the workweek: it had a beginning, a middle, and an end. And it was a hit.
"It is classic Bartholomew writing and Domino playing and delivering," says Spitzer. "I don't think it gets any better than that. The public, I think agreed with me at least back in 1956 when it came out into 1957, because it was number one on the R&B chart and it was Number 5 on the pop charts. I just love 'Blue Monday.' I think it is a feeling we all have on Monday. Maybe more in New Orleans than some places because of what we did over the weekend."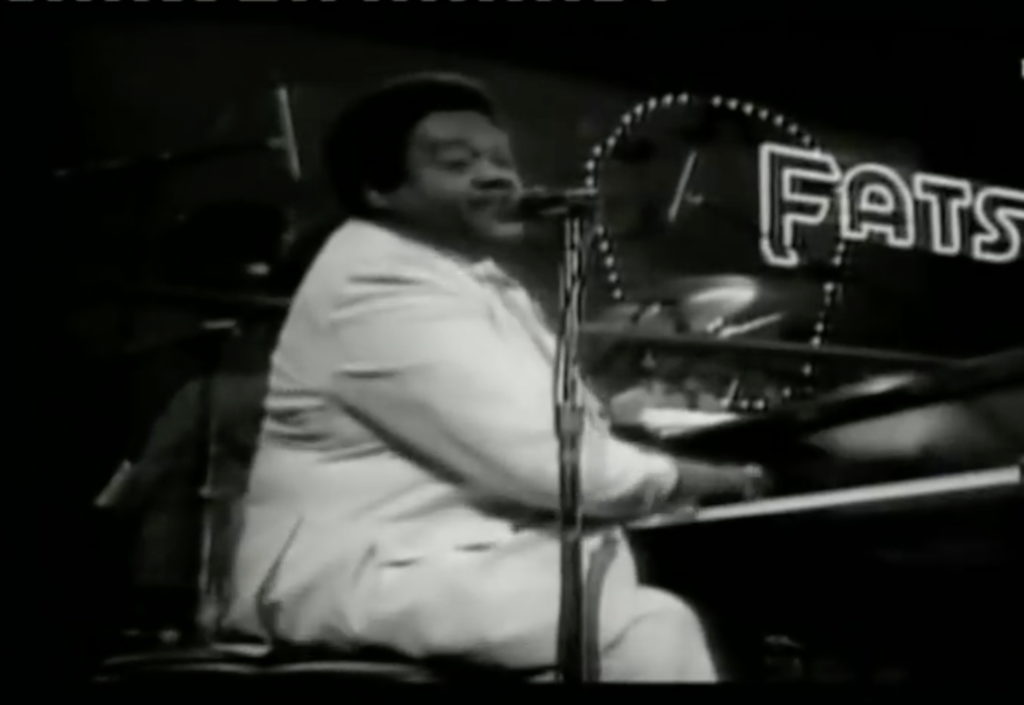 A Domino Documentary
The Big Beat: The Story of Fats Domino And His Band, a documentary by filmmaker John Lauro, premiered at the New Orleans Film Festival in 2014.
Mike Scott, film critic for The Times-Picayune, noted that the film celebrates "one of the defining partnerships in rock 'n' roll."
He says the film "built around both new interviews and archival recordings … tells a story with its roots in the city's Lower 9th Ward but one with ultimately global ramifications."
"Sixty million records later, we have a legend," says filmmaker John Lauro, "And a legacy."
The film features footage from a 45-minute archival film of a 1962 concert by Fats and his original band.
This trailer was made when Lauro was raising money for the now-completed project.