---
Ani DiFranco
Righteous
When does a girl become a woman? Or an ingenue become a veteran? Or a righteous babe stay righteous AND a babe? Sometime over the past 30 years, Ani DiFranco figured it out. When she started performing as a solo act in Buffalo, NY, in the mid-1980s, nothing was promised — not even a reliable car. But she wrote her own songs and toured relentlessly. Before long, she'd started Righteous Babe Records — an independent label that's sustained her career and many others. She traveled the world and released more than 20 albums. She'd performed with some of the leading lights of folk music — Pete Seeger, Billy Bragg and Utah Phillips, among them — and won a Grammy award.
Words and Music
Nowadays, DiFranco, 49, is a mother with school-aged children. She's receiving lifetime achievement citations and standing ovations before she ever says a word. That's what happened in January, 2020, at the International Folk Music Awards in New Orleans, when the executive director of the alliance handed DiFranco a People's Voice Award, the last statuette of the night.
DiFranco encouraged audience members to look for opportunities to make a difference in their communities and across the nation. "It's our responsibility," she said. Her 2019 best-selling book, "No Walls and the Recurring Dream" offers insight into experiences that helped shape her ideas on feminism, womanhood and community.
No Walls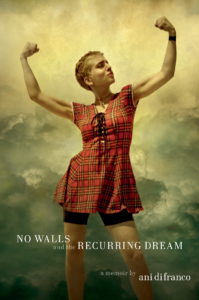 In 2019, DiFranco gave a public interview about her book at the Jewish Community Center in New Orleans. Speaking with Gwen, she talked about how the passage of time helped her remember her youth in Buffalo differently, perhaps more clearly, and concede that it may have been better than she had previously allowed. Those newly-unearthed memories, she said, enabled her to have "a better childhood."
Special thanks go to Garden District Books in New Orleans, which organized the event.
For more information about Ani DiFranco, go to her website.
Here's a Playlist of the songs in this hour.
Reading
Before her conversation with Gwen, DiFranco asked if she could read an extended excerpt from her book, "No Walls and the Recurring Dream." Here it is in its entirety. There's strong language in this reading, involving some words that the comedian George Carlin once said could never be heard on the airwaves.
Revolutionary Love
About her 22nd studio album, Revolutionary Love, DiFranco says "It'd been a long time since I sat in front of a microphone and recorded a whole record in a number of hours I could count on my hands. For years I'd been trying to piece records together by hook or by crook, overdubbing different elements at different times, lingering over all the details. But this thing was made more like it was 1968, with people performing on instruments made of wood and metal, laying down a few takes and moving on. It really brought out the prowess of the musicians involved and the immediacy of offering up a song to another human." [Righteous Babe Records press release.]
Here's "Do or Die" from Revolutionary Love:
Prison Music Project
The Prison Music Project is a collaboration with folk-singer and songwriter Zoe Boekbinder. It's the result of Boekbinder's many visits to New Folsom Prison. For five years, Boekbinder performed in the prison and taught music workshops. The visits became the Project and the Project gave rise to an album — Long Time Gone, produced by Ani DiFranco. Out now on Righteous Babe Records, Long Time Gone features work by nine incarcerated (and formerly incarcerated) writers. Learn more about the Prison Music Project and the album on Righteous Babe's website.
---