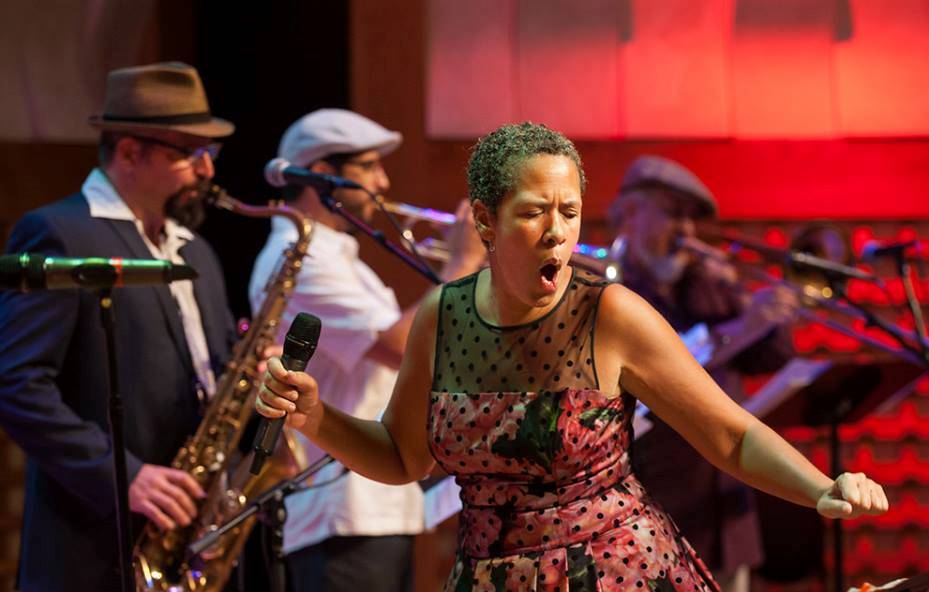 Margie Perez
Wanderlust with a Latin Tinge
Margie Perez grew up in the suburbs of Washington, DC on a diet of classic rock and Cuban rhythms. As the child of immigrants from Havana, she knew Johnny Pacheco and Celia Cruz recordings just as intimately as she did every Beatles album. And what goes in, eventually comes out.
As a singer, Perez is surprisingly versatile. She sings any number of musical styles, including pop, blues, jazz, funk, Latin melodies and West African sacred music. That makes her popular among a wide array of musicians, including drummer Stanton Moore, (Galactic), traditional jazz clarinetist Dr. Michael White, and funk guitarist Leo Nocentelli (The Meters).
Part of Perez's versatility comes from a native restlessness. For many years, she worked as a travel agent and visited nearly every continent. "I've just always had this wanderlust," Perez tells Gwen.
New Orleans is home, Perez says, but it would be nice to have a seaside shack in Cuba that catered to island beachcombers and tourists. And, for the price of rum and sunshine, Perez says she'd be willing to sing.
Connect with Margie Perez – Facebook | Reverb Nation | iTunes
Playlist
Every week, we provide a p​laylist​ of the music on the program. Please support your local musicians and record stores.
"Who Are The Supremes, Alex?"
Back in the late 1990s, Margie Perez's world travels brought her to LA, where she was a guest on the shortly-lived game show Rock and Roll Jeopardy… and she won! Perez credits the late Casey Kasem and his weekly "American Top 40" radio program for stoking her love of music trivia.
MP      Because of Casey Kasem, I credit him for me knowing as much. I'm one of those people that has the weird trivia in my head. I credit Casey Kasem for that. I was able to get on to a game show that was on in the 1990's. It was Rock and Roll Jeopardy.
 
GT      Rock and Roll Jeopardy. Was it Alex Trebek?
 
MP      No actually, it was Jeff Probst, the guy from Survivor.
 
GT      Yes. 
 
MP      It was before Survivor. He was the host of the show. I lived in L.A. for a few years. I don't talk too much about it, but I was on Rock and Roll Jeopardy while I was there and I won.
 
GT      No way! Really! Do you remember any of the questions?
 
MP      I remember the final jeopardy question that I got wrong, but luckily I had enough points I had already won going into it. They said in the 1960's… the category was singing groups. It said, this American group had more number ones than any other American singing group. It wasn't the Beatles! I thought maybe the Beach Boys. It was the Supremes.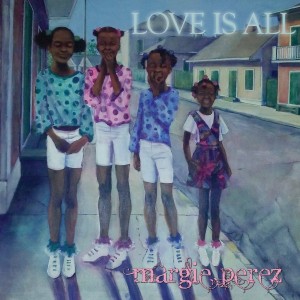 Love Is All
Margie Perez's most recent album, Love Is All, was named one of Offbeat Magazine's 50 Favorite CDs of 2017. The nine tracks embody the versatility that is Perez's signature style, covering the range of pop, funk, jazz and salsa. You can find many of the songs you've heard on this program, and even a tribute to the "Devil's lettuce." Where's Kermit Ruffins when you need him?
Can We Eat Yet?
Margie Perez's songs can cover a lot moods – celebrative, contemplative, sexy, wistful… and even "hangry" (That's hungry + angry, and no fun for anybody). Here's a number that some fans call her "Alanis Morissette" moment… but be warned, there's some strong language at 6:53, after the song ends.