Tickling The Ivories with Deacon John Moore
He's Just As Frisky As Ever
Deacon John's mother wanted him to be a singer, but she hated rock 'n roll.
Oh well.
Mrs. Moore's little boy picked up a guitar, and it wasn't long before rock 'n roll came tumbling out. His bandmates named him Deacon John. But he also recorded at least one song under the name Johnny Moore. Deacon John's early recordings were high energy and danceable, just like his stage show. But "You Don't Know How (To Turn Me On)" and "Haven't I Been Good To You," signaled only a fragment of what the Deacon could do.
Deacon John's band, the Ivories, at one time or another featured the Neville brothers, pianist James Booker, drummers Zigaboo Modeliste, Bob French and James Black, bassist George French and many other luminaries of the New Orleans music scene. And as the line up changed, the band's repertoire changed with it, from early R&B and rock 'n roll, to hard rock, soft rock, psychedelic rock and folk, not to mention early funk. Today, the Ivories play most everything, including the kind of gospel music of which the good Deacon's mother would approve.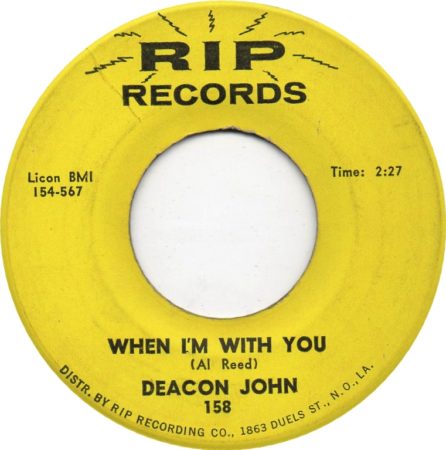 But Deacon John's biggest imprint on music is as a sideman. His guitar figures on a long list of hit records made in New Orleans and heard around the world, including Lee Dorsey's "Working in a Coal Mine" Robert Parker's "Barefootin'," Aaron Neville's "Tell it Like It Is" and Irma Thomas' "Ruler of My Heart."
Much of Deacon John's session work was with the great songwriter, producer and arranger Allen Toussaint.
"When I see Allen Toussaint now, I can't thank him enough." Deacon John tells Music Inside Out. "… I'll be forever grateful to (him) for making me a part of the indigenous culture." [Ed. note: Allen Toussaint died in 2015, two years after this interview.]
Deacon John's career spans six decades and tells a unique story of the evolution of popular music. Mrs. Moore's little boy may not be an actual church deacon, but he makes turning on the radio a blessed event.
Connect with Deacon John
Playlist
Each week we compile a playlist of all the music heard on the show. Feel free to download it to your device and bring it along to your favorite local music retailer.