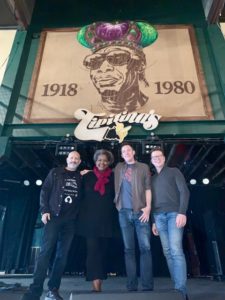 Galactic
Unmuted
In funk music everything counts — every note, every beat, every silence, every breath. That's why musicians who play funk are such masters of understatement. They don't want to dilute the groove.
Members of the New Orleans band Galactic have been groove-makers for 25 years. They're not all from New Orleans. But they're summa cum laude students of the city's unusually large cast of funk and rhythm masters. In a medium that demands enough space to, as many musicians say, "smell the funk," Galactic brings mind-altering layers of excitement to their compositions. It's as if they're tatting funky lace.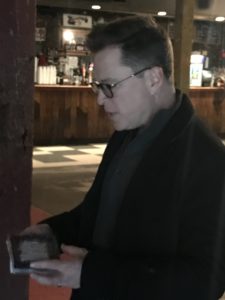 And yet, the music can be counter-intuitive. Anything can happen in a Galactic song, but doesn't. Band members who produce their recordings in-house say their most reliable tool is the "mute" button.
"I think that's how a lot of our songs evolve," saxophonist Ben Ellman tells Gwen. "They start at one place and they get to wherever they end up usually not by adding stuff, but by taking stuff away."
Pulling The Band Together
Gravity seems to have brought the members of Galactic into each other's orbit. Bassist Robert Mercurio and guitarist Jeff Raines were friends from high school in the Washington, DC metro area. They came down to New Orleans as university students with the aim to form their own band. Drummer Stanton Moore met them when he was still in high school in the city and trawling the city's music clubs every night — every single night. Ellman drove down to New Orleans on vacation from California and never went back. And Rich Vogel? Well, he was already in the city and happened to play keyboard extremely well.
The band's discography, beginning with the 1996 album, Coolin' Off, shows their evolution from an organic sound, in keeping with the standard set by The Meters in the late 1960s and 1970s, to grooves that are more fierce and surprising. The band embraces R&B, hip hop, jazz, rap, rock, electronica and good ol' soul. Just don't call them a "jam band."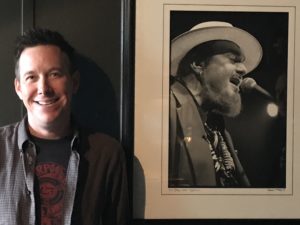 "We've always kind of hated that term a little bit," Mercurio tells Gwen. "In New Orleans, all the bands in the early 1990s — when we were coming up — were technically all jam bands. We were just doing what they were doing. Long sets. Improv. Changing stuff up. Taking left turns here and there. (But) when we left New Orleans (on tour) we didn't even know that term. Then we just started hearing "jam band," and we were tagged into this jam band scene. It's been a really great scene for us and the fans are amazing. But we just always considered ourselves a New Orleans band."
Self-Editing
On their 2019 release Already Ready Already, Galactic continues to feel a gravitational pull, this time deeper into the groove. The band's instrumentals are a kind of ecstatic hellfire, particularly on the title song. And yet, on this and other Galactic albums, the band demonstrates a unique ability to make other artists sound more fresh and energized than ever. Already Ready Already features Princess Shaw, Miss Charm Taylor of the Honorable South, Boyfriend, David Shaw of the Revivalists, Maggie Koerner and Erica Falls.
Galactic attributes much of its artistic success to self-editing. "Self-editing is hard," Ellman says. "It's a lot of checks and balances … in our band … Rob edits me, I edit Rob, Stanton. It just happens. We listen to each other."
Gwen: And trust each other.
Ben Ellman: Yeah. Absolutely.
Stanton Moore: They edit me a lot.
Ben Ellman: We do a lot of muting on Stanton.
Stanton Moore: A lot!
Houseman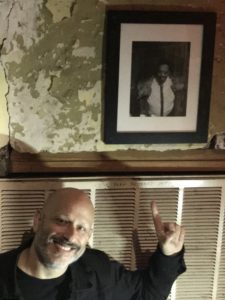 This image is more than 20 years in the making. Theryl "Houseman" DeClouet (1951-2018) was the first lead singer of Galactic. When he joined the band in the mid-1990s, DeClouet had already spent more than 20 years in the music business. He met bassist Robert Mercurio and other band members at Benny's, a now-defunct club in the 13th Ward, not far from where the Neville Brothers and members of the The Meters grew up.
Stanton Moore can't believe the band's luck. "For him to have gotten in what was my parents' 1978 Ford Econoline van, that I went to Disneyworld in when I was six years-old … and believe in us, I realize what a leap of faith that was," he said.
"He always let us know that we were a bunch of youngsters and we didn't know what we were doing and he was showing us the way," saxophonist Ben Ellman remembered. "He let us know."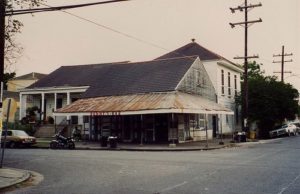 "He really pushed us and told us to think outside the box and think bigger," Mercurio said. We were happy when, 'Oh, there's 50 people (in the audience) tonight, yay!' And he's like, ' You should be thinking about playing to a thousand people. He was always pushing. And I'd be like, 'You're crazy, that's never going to happen.'"
A New Chapter
DeClouet, in failing health, left the band in 2004. "We wanted to not just jump into replacing him, because he's irreplaceable," Moore said. "So we thought long and hard about what we wanted to do. Did we want to make an instrumental record? We aren't going to go try to find another singer. So that is when we all, as a group, decided to make From the Corner to the Block which would be a different record that showcased all these different MCs, a different MC on each song."
The band currently tours with singer Anjelika "Jelly" Joseph and continues to record with a long list of featured artists, including Macy Gray, Cyril Neville, Trombone Shorty, Irma Thomas, John Boutté and Big Freedia. But when Galactic purchased the New Orleans nightclub Tipitina's in late 2018, one of their first orders of business was to put DeClouet's image on the wall. "I feel like he would be really proud of us," Mercurio said.
Tipitina's 4.0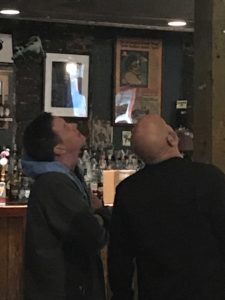 Years ago, saxophonist Ben Ellman worked in the kitchen at Tipitina's and prided himself on his layered cheese fries. Today, he and the other members of Galactic own the joint. In late 2018, the club's future was uncertain. It's then-owners appeared unlikely to hold onto the property due to reversals apparently unrelated to the club. But members of Galactic say they'd been talking about buying Tipitina's well before 2018.
"We couldn't be happier," drummer, Stanton Moore said. "But we don't look at ourselves as the owners of Tipitina's —- you can't own something like that. We are the current stewards."
Before Galactic, there've been only three sets of owners of the club, which in the 1970s was the home of Professor Longhair. Galactic's stewardship began just in time for Longhair's centennial celebration, featuring musical director George Porter, Jr., as well as Longhair bandmate Alfred "Uganda" Roberts. The horn section included Tony DiGradi and Roger Lewis. David Torkanowsky was on piano, Johnny Vidacovich sat in on drums and the singers included Topsie Chapman and Deacon John.
"And we're all like, 'Can you believe this?''' Moore said. "'Can you believe the music? Can you believe we're all hanging here like this?' And (actor) Wendell Pierce is like, 'I can't believe you guys just bought it. Now I'm going to be hanging here all the time and I'm going to tell all my friends to come.' I'm like, 'Great! That's exactly what we want.'"
Connect with Galactic
Check out Tipitina's complete calendar and Galactic's Facebook page.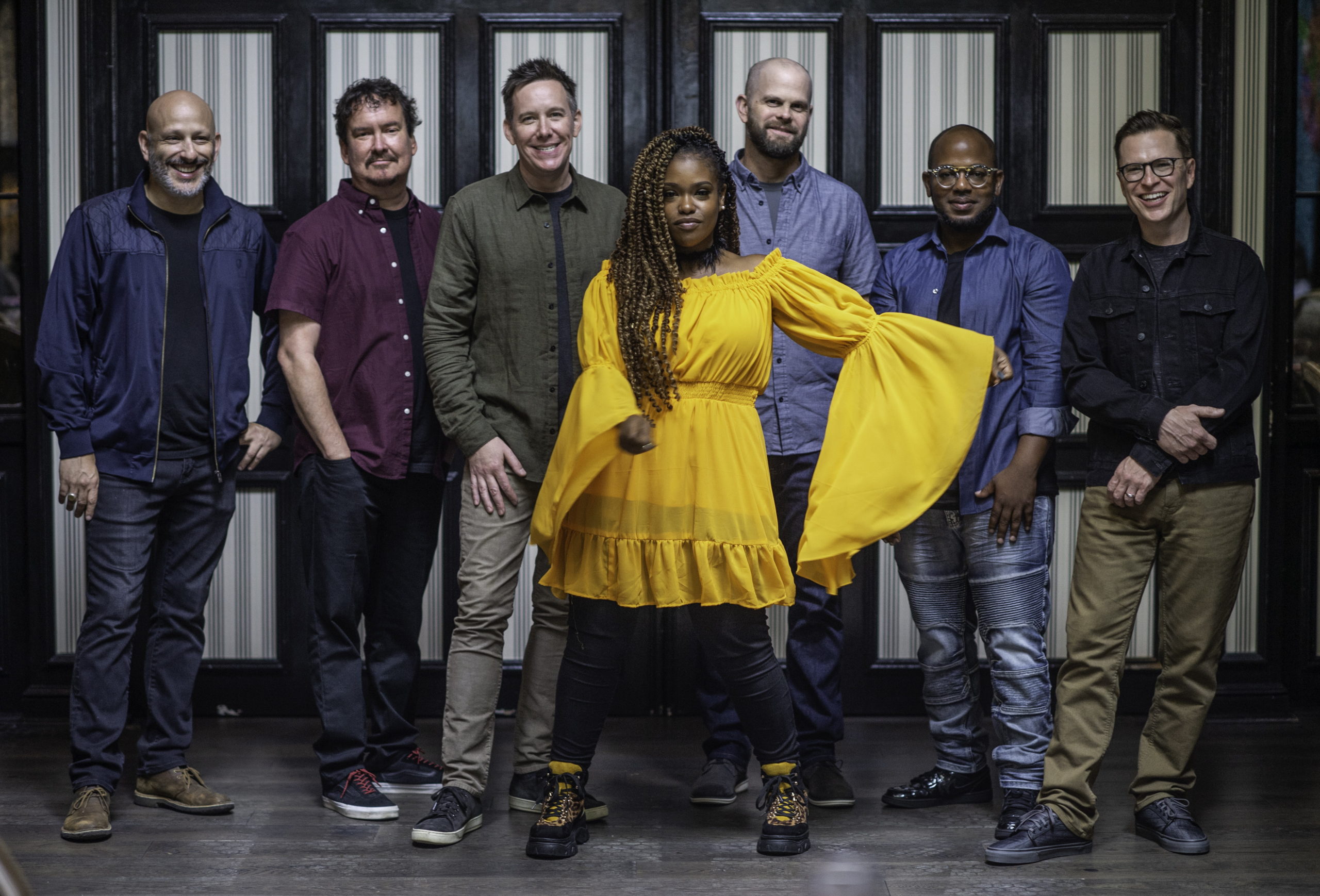 Playlist
Every week, we provide a playlist of the music on the program. Please support your local musicians and record stores.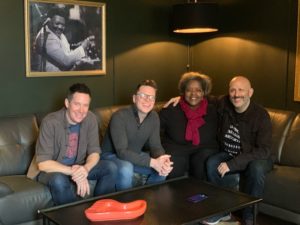 Tipitina's TV … or not TV

Many bands turned to live streaming their concerts during the Covid-19 pandemic. True to its nature, Galactic kicked this concept up to 11 with Tipitina's.TV. The subscription-only channel debuted in August, 2021 with a live performance by the band along with special guests, including Glen David Andrews.
But Galactic wasn't the only star of these particular shows. Season 1 of Tipitina's.TV also featured The Radiators, Rebirth Brass Band, Anders Osborne, Samantha Fish and Tank & The Bangas. Each livestream was highly produced, with multiple cameras, great sound and music-video-quality editing.
With Tipitina's (the music venue) slowly reopening, the future of Tipitina's.TV is uncertain. "For now, we are taking it day by day, week by week. One thing we have learned over the past year is that things are very fluid," says Robert Mercurio.