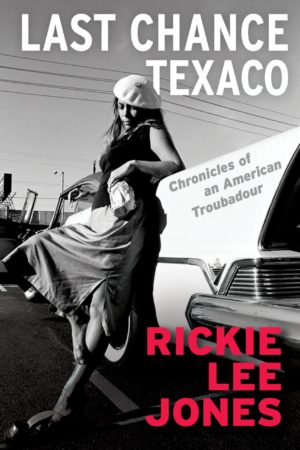 Singer, songwriter and friend of Music Inside Out, Rickie Lee Jones, has a new book out. Last Chance Texaco: Tales of an American Troubadour hits the book world April 6th. To celebrate this event, we just rebroadcast our interview with Ms. Jones.
Here in New Orleans, the iconic Preservation Hall is hosting "An Evening with Rickie Lee Jones" in its courtyard. The event takes place at 6:00 pm on the book's pub date — Tuesday, April 6th. Tickets include a signed copy of the book.
The evening will feature a "lively and in-depth conversation with Jones and (local radio host) Jamie Dell'Apa. They will discuss Jones's remarkable life and career and share excerpts from the memoir," according to the press release.
Not in New Orleans? Not to worry — out-of-town virtual tickets are also available! These virtual ducats include tele-access to the discussion (including an opportunity to ask questions) as well as one signed copy of Last Chance Texaco. Out-of-town ticket-holders will get their copies via Media Mail shipping within the United States.
Find more information and ticketing options here.
But you don't need to leave this page to hear a sample of Last Chance Texaco. Last week, we lugged our recording equipment to Rickie Lee Jones's living room, where she graciously agreed to read an excerpt from the book. It's called "Chicken in the Pot" — which, it turns out, is more than just a refrain from her song "Danny's All-Star Joint":
It's worth noting that Rickie Lee Jones also narrated the entire book at her home. Recording the unabridged audiobook took "a few weeks," she tells us. You can find it wherever fine audiobooks are sold … or streamed.
We don't know if the audiobook version also includes music from West Side Story, but we're eager to find out.