Drummer and vibraphonist Jason Marsalis has a couple of virtual gigs we thought you should know about. Like many musicians these days, Marsalis is streaming live on Facebook.
Tonight at 6:00 pm EDT (5:00 pm Central), Jason Marsalis is going solo as part of Blue Note New York's At Home series. "I'm working on the presentation as we speak so I'll try to deliver a top quality solo show from home. Looking forward to it." If we know Marsalis, there's sure to be a nice mix of old standards and new improvisations. We're looking forward to it as well.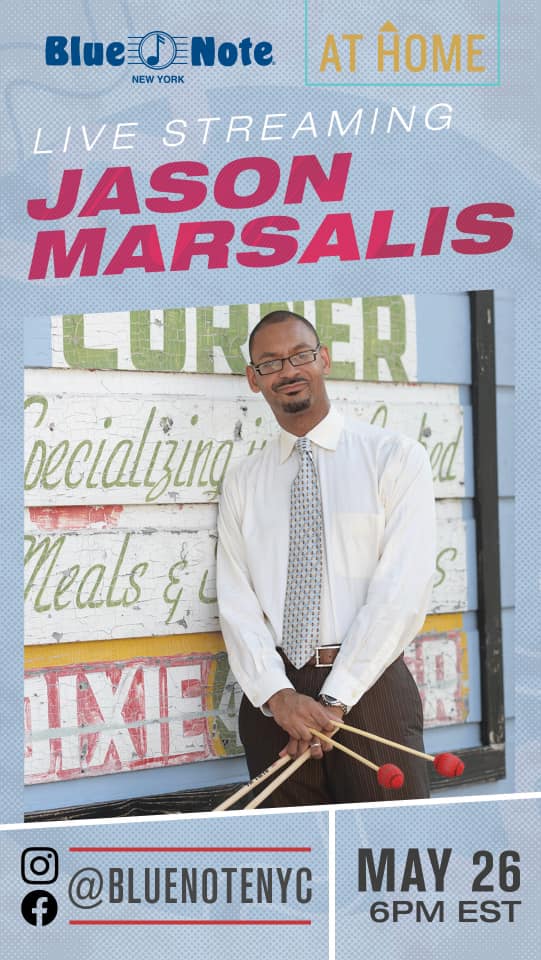 And just a few days later (Thursday, May 28, 7:00 pm CDT) you can hear the The 21st Century Trad Band: Benny Goodman Edition. According to Marsalis: "The group pays homage to the classic 1930's Benny Goodman Quartet while bringing the music into the 21st century by covering music written after 1930."
It's "a fresh take on a classic ensemble … with Jason Marsalis on vibraphone, Joe Goldberg on clarinet, Kris Tokarski on piano, and Gerald T. Watkins on drums." The show will be streaming on the Jason Marsalis Facebook page.
There's so much live music streaming these days it's hard to keep up. We looked ahead at the Blue Note schedule and saw a couple of New Orleans musicians represented: Nicholas Payton, also performing this Thursday, May 28; and Jon Cleary on May 30.
New Orleans radio station WWOZ is offering one way to keep tabs on all the virtual music performances by our homebound local musicians: the WWOZ On-Line Wire. This massive endeavor has one particularly handy feature: click on any performer's name and go to the location of the livestream. Saves a great deal of searching on Google.
Check it out and enjoy some live, virtual music.