In the words of Dr. John, "Carol Kaye is a sweetheart and a kick-a– guitar player as well as a kick-a– bass player!"
You may not recognize the name but you've heard her on literally thousands of recordings, TV themes and movie scores. A member of L.A.'s legendary Wrecking Crew, Carol Kaye stood out in that group of virtuoso studio musicians as one of its very few women.
From CarolKaye.com: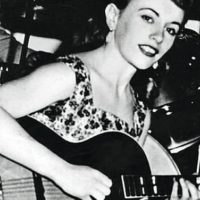 "Carol Kaye was born [Ed. note: March 24th, 1935] in Everett, Washington to musician parents, Clyde and Dot Smith, both professionals. She has played and taught guitar professionally since 1949, played bebop jazz guitar in dozens of nightclubs around Los Angeles … accidentally got into studio work late 1957 with the Sam Cooke recordings.
"In 1963 when a Fender bassist didn't show up for a record date at Capitol Records, she picked up the Fender bass (as it was called then) and augmented her busy schedule playing bass and grew quickly to be the number one call with record companies, movie and TV people, commercials and industrial films."
So Much Music
The list of Carol Kaye's credits on electric bass is truly mind-boggling: The Beach Boys … Phil Spector … Quincy Jones … Frank Sinatra (and Nancy Sinatra) … Ray Charles … Sonny and Cher … Diana Ross and the Temptations … as well as New Orleans own Soul Queen, Irma Thomas. And Mahalia Jackson. By her count, over 10,000!
As Taj Mahal said to Carol when they both appeared at Seattle's Museum of Pop Culture, "Carol Kaye, you are the best!"
Here's a 2013 interview with Carol Kaye by the Snapshots Music & Arts Foundation: