It's Duke Ellington's 121st birthday today, and what better excuse to listen to his New Orleans Suite — which, as it turns out, is 50 years old this month.
George Wein commissioned this composition, released on LP in 1970, for that year's New Orleans Jazz & Heritage Festival. It won a Grammy the following year for Best Jazz Performance by a Big Band.
The suite includes "portraits" of Sidney Bechet, Mahalia Jackson and Louis Armstrong, along with a lesser known New Orleans artist: Wellman Braud. Braud played upright bass and tuba with Ellington in the 1920s and 30s. Branford Marsalis credits Braud with being one of the first "walking bass" players. And if that's not enough cred, he's distantly related to the Marsalis family.
The album contains the final recordings of alto saxophonist Johnny Hodges, who died halfway through its completion. The gently-swinging "Blues for New Orleans" features Hodges' last recorded solo. (It's rumored he would have played his rarely-heard soprano saxophone on "Portrait of Sydney Bechet.")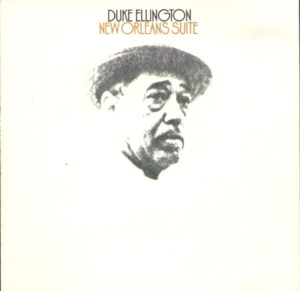 Three weeks before his death Hodges, along with the rest of Ellington's orchestra, gave "Blues for New Orleans" its JazzFest premiere on April 25th, 1970 at the Municipal Auditorium.
So, happy birthday Duke Ellington … and happy belated birthday to his New Orleans Suite.