It's Paul Whiteman's birthday today, and this obscure fact sent us down a virtual rabbit hole of free association…
Once hailed as "The King of Jazz," Paul Whiteman (1890-1967) had one of the most popular dance bands of the 1920s and 30s in this country. And it was big — at a time when most orchestras topped out at six to ten players, Whiteman's sometimes boasted as many as 35, including strings. In 1922 he managed 28 bands on the East Coast, earning him over a million dollars. (Fifteen million today, adjusted for inflation.) Not bad for a viola player from Denver.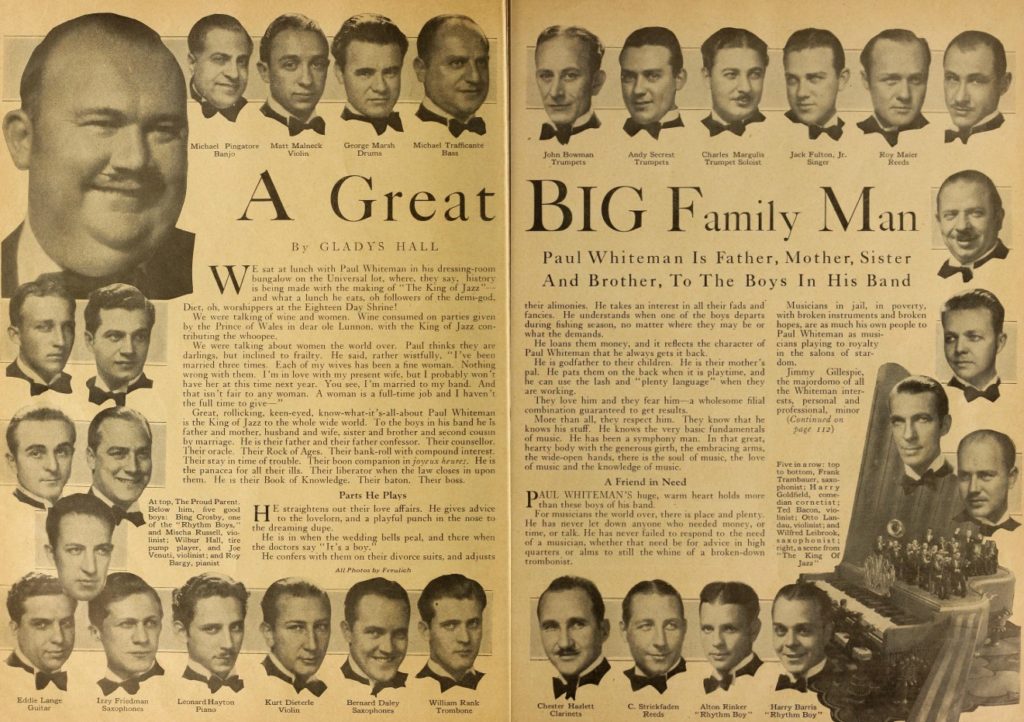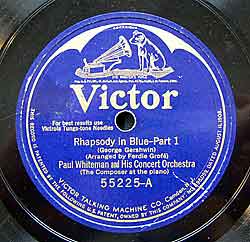 Today, if Paul Whiteman is remembered at all, it's for introducing the world to George Gershwin's Rhapsody in Blue.
Rhapsody in Blue — which Whiteman commissioned — premiered at an afternoon concert on Tuesday, February 12, 1924 in New York City's Aeolian Hall. Whiteman called his concert "An Experiment in Modern Music." Rhapsody was second to last on a long and tendentious program. According to Wikipedia, many important and influential musicians of the time were present, including Sergei Rachmaninoff, Igor Stravinsky, Fritz Kreisler, Leopold Stokowski, John Philip Sousa, and Willie "the Lion" Smith. Gershwin himself was the soloist.
In 1984 the late conductor Maurice Peress set out to recreate the entire concert in a recording with pianists Ivan Davis (Rhapsody soloist) and Dick Hyman. It's a treat to hear the work in its original jazz band orchestration with banjo and saxophones. It's also worth seeking out the physical CD for the excellent liner notes by Peress.
So many recordings of Rhapsody have been made over the years, but our favorite will always be the one featuring the pianist, celebrity and professional hypochondriac Oscar Levant. A music critic once asked him if Gershwin's music would still be around in a hundred years. Levant famously replied, "If George is around, it will."
Sadly, no videos seem to exist of Levant playing Rhapsody. But there is a memorable scene in "An American In Paris" featuring that other Gershwin masterpiece, Concerto in F … and a lot of Oscars:
About that "King of Jazz" title? Some critics have called Whiteman's ornately orchestrated music "pseudo-jazz," lacking the improvisational and emotional depth of true jazz. But in his autobiography, Duke Ellington declared, "Paul Whiteman was known as the King of Jazz, and no one as yet has come near carrying that title with more certainty and dignity."
Well, if the Duke said so, that's all right with us.