This was different. James Taylor has played New Orleans any number of times and on his two most recent visits presented similar shows reflecting on his life as a singer-songwriter. He is, after all, a self-described "professional autobiographer," who not only shares music, but also allows his team to post vignettes of his daily life online for crowds of devoted and curious fans. But on Saturday night, October 16, Taylor seemed to turn his focus more firmly outward — and onto a nearly capacity audience at the Smoothie King Center that had waited two long years to see him. His romping performance suggested that he'd been waiting also — somewhat impatiently — and was relieved to reunite with fans. Always easy going and courtly onstage, Taylor seemed friskier than before, determined to make every minute tingle.
"For the longest time I didn't believe we were going to get back here," he told the audience early on.
The Covid-19 pandemic had twice delayed the concert, featuring Jackson Browne as the opening act. And had Hurricane Ida arrived in Louisiana any later than it did, Saturday's date might not have been possible. After all, there are still people in the state who don't have electricity and much of the New Orleans metro area is shrouded in blue tarps over damaged homes and other buildings. The timing was not lost on either performer. Taylor and Browne donated all proceeds from the concert to South Louisiana Second Harvest Food Bank of Greater New Orleans and Acadiana to benefit those affected by the storm.
Browne, with a full band, including two enchanting back up singers, performed an intense and well-received set, featuring some of his best-known chart hits and three songs from his latest album, "Downhill From Everywhere." Taylor, leading an even fuller band of eleven performers, also delivered many of his usual crowd-pleasers.
But the set included unexpected treats from his repertoire, as well. "Line 'Em Up," he said, was inspired by former President Richard Nixon's final walk to Marine One. The cartoon charmer "As Easy As Rolling Off a Log," he called the least-known composition on his 2020 Grammy award-winning album "American Standard." "That's Why I'm Here," the title song from Taylor's 1985 album, he wrote after the drug overdose and death of his friend and former running partner John Belushi. And the blues song "You Make it Easy" first appeared on the 1975 "Gorilla" album, describing a married man on the brink of making an unwise decision. These selections nudged the audience out of its habit of singing along to the chestnuts at a Taylor concert and reminded them anew of the elegance and power of his songwriting.
It would be difficult to imagine a more besotted response at the arena, where standing ovations and shoutouts abounded. Taylor's eagerness to keep his band on tour makes him a recurring presence in his fans' lives — the friend who's been passing through for more than half a century. And when he's not physically with his fans, he's a delightful presence on the Internet, sharing goodwill in the form of guitar lessons, carving pumpkins, choosing a Christmas tree, giving himself a manicure, singing, and patiently talking to his dog, Ting. He and his worldwide listening tribe of friendly strangers have grown together in sincere regard, sharing their lives via his secular hymnal of songs.
"I used to rock her to sleep listening to James Taylor," Bob Ward of Bristol, VA, said Saturday, motioning to his daughter Julie Ward, who's now a twenty-something New Orleans resident. "Every night, she used to say, 'Daddy, I wanna hear 'Steamroller!' It got tiring sometimes. If there are 365 days in a year, we must have played that entire (1991 James Taylor In Concert) videotape more than 365 times." But when the New Orleans Jazz and Heritage Festival cancelled this year's event due to Covid concerns, ending Ward's hopes of seeing Jimmy Buffet, he and Julie made a merry pair singing Taylor's songs from the balcony seating. She'd insisted they come.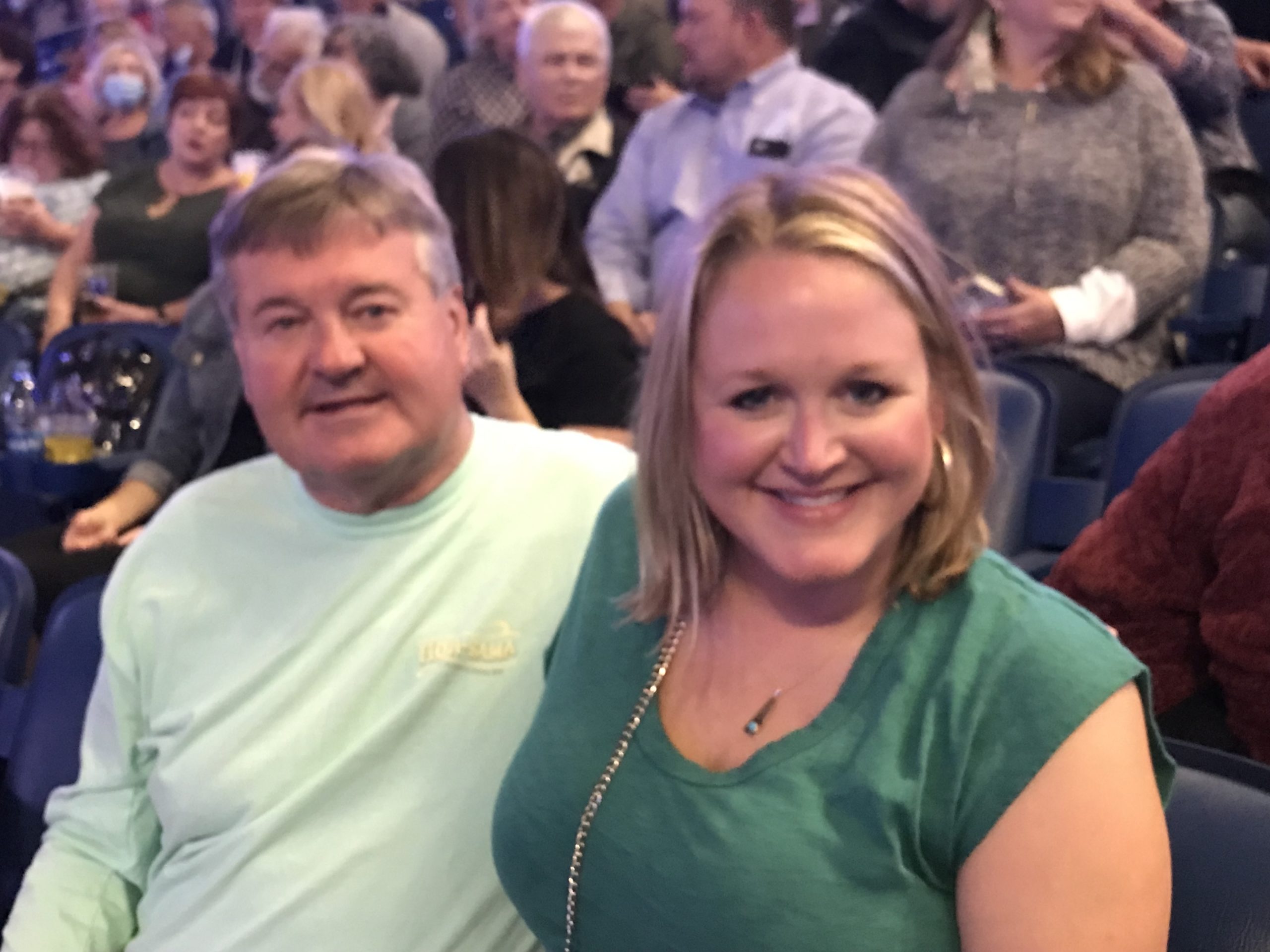 To gain entry to the Smoothie King Center, audience members provided proof of a Covid vaccine or a recent negative test for the virus. But it was unsettling to see so many people singing with such gusto and not wearing masks in the packed house. The tableau underscored the uncertainties ahead for live performance in New Orleans and elsewhere.
Images of an autumnal evening in the outdoors, projected on a screen behind the band, added a warmth and calm to the music but also underscored the illusory nature of Saturday's reunion. The faux leaves falling from a faux large tree onscreen were a reminder of time passing, and the fragile line between what many in attendance might hope for the future and the unknown realities that await.
And yet, it was enlivening to see Taylor — older, shaggy-haired and a bit scattered in his storytelling — sing himself hoarse just to be of use to his followers. His final encore, "You Can Close You Eyes" performed as a duet with his son Henry (a taller, softer, near doppelgänger version of his earlier self), brought the feeling home:
Oh, the sun is surely sinking down
But the moon is slowly rising
So this old world must still be spinning around
And I still love you
The song, released almost exactly 50 years ago, has become a covenant of sorts — that there will be more evenings such as this, too long forestalled, perhaps, and too quick to pass.
---
SETLIST
Country Road
Copperline
That's Why I'm Here
Mexico
You Make It Easy
Line 'Em Up
Steamroller
As Easy As Rolling Off a Log
Sweet Baby James
Fire and Rain
Going to Carolina
Shower the People
How Sweet It Is
Shine a Light
Take It Easy (with Jackson Browne on lead vocals)
You've Got a Friend
You Can Close Your Eyes (with Henry Taylor)
Gwen Thompkins, Host — Music Inside Out