Shades of 1970! Our MIO friends Scott Aiges and Susan Cowsill just released a remarkable new version of the Carpenters classic, "(They Long to Be) Close to You." It's a mashup of Jamaican reggae and carefully-crafted Bacharach-David pop. We love it.
Aiges is the co-producer and also plays rhythm guitar with Jamaican Me Breakfast Club. JMBC is way too good to be called a cover band but that's exactly what they do. They turn mainstream pop into rocksteady romps. Think a slowed-down, Rastafarian version of Me First and the Gimme Gimmes.
Here are the credits for "(They Long to Be) Close to You":
Performed by Jamaican Me Breakfast Club featuring Susan Cowsill
Written by Burt Bacharach and Hal David
Released Feb. 14, 2021
Produced by Scott Aiges, Steve Chyzyk and Steve Himelfarb
Recorded and mixed by Steve Chyzyk and Steve Himelfarb at SonicCanvas Studios, New Orleans
Lead vocals: Susan Cowsill
Lead guitar: Steve Chyzyk
Rhythm guitar: Scott Aiges
Drums: Russ Broussard
Bass: Rob Savoy
Trumpet: Ashlin Parker
Saxophone: Derek Douget
Piano: Brian Coogan
Background vocals: Tracci Lee
Artwork and painting: John Bukaty
Video editing: John Sanchez
℗ Jamaican Me Breakfast Club 2021
What's Susan Up To?
Look carefully at that personnel listing and you'll see Cowsill's husband Russ Broussard is behind the drum set. Like many artists during this pandemic, Cowsill and Broussard are performing virtually. Here's a recorded show from December, 2020, across from the Tree of Life in Audubon Park:
It's great to hear Susan Cowsill singing just about anything and it's a revelation to hear her take on a song like "Close to You" that's associated in the popular mind with another vocalist. Make that vocalists — Dusty Springfield, Dionne Warwick and even Richard Chamberlain all had a go at it.
And we get the irony of the song's title. These days, we long to be close to just about anyone.
That said, we're still trying to figure out what Piet Mondrian has to do with Burt Bacharach. Maybe we're just not square enough.
Mystery Solved
Thanks to our brilliant MIO producer, Margaret Howze, we know what's going on with the whole Mondrian-painting timelapse in the "Close to You" video. Apparently Margaret remembers the Seventies a lot better than we do.
The key is the 50-year-old TV sitcom, The Partridge Family. The show centered around the wacky misadventures of a musical family — single mom Shirley Partridge (Shirley Jones) and her five children.
That show took its inspiration from The Cowsills — "six siblings noted for performing professionally and singing harmonies at an early age, later with their mother" (Wikipedia). Some of the Cowsills may even have been considered to play their TV alter egos but this never happened.
What we do know is, once the Partridges score a Top 40 hit in the pilot episode, "Shirley agrees that the family can go on tour. They acquire an old school bus, a 1957 Chevrolet Series 6800 Superior … paint it with Mondrian-inspired patterns, and head to Las Vegas, Nevada, for their first live gig at Caesars Palace." op. cit.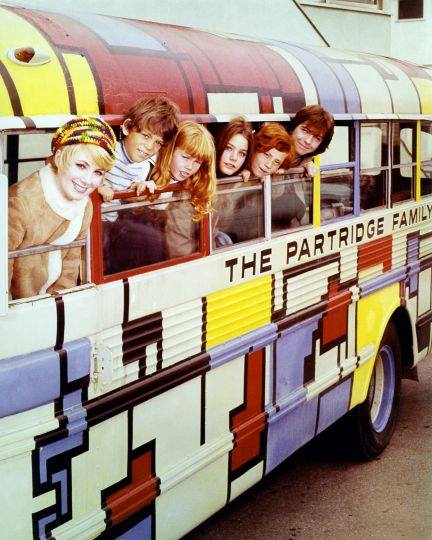 For more on the Mondrian-Partridge-Cowsill connection than you'd ever want to know, we release you from this blog and send you over to our colleagues at Unremembered History.
Come on, get happy!