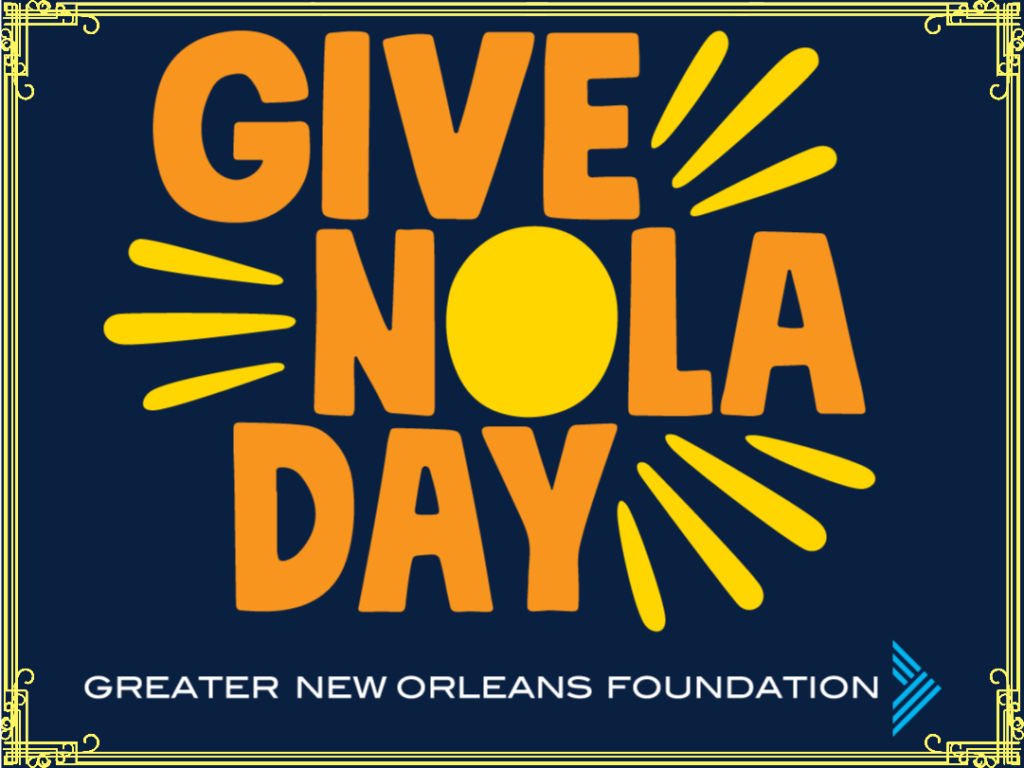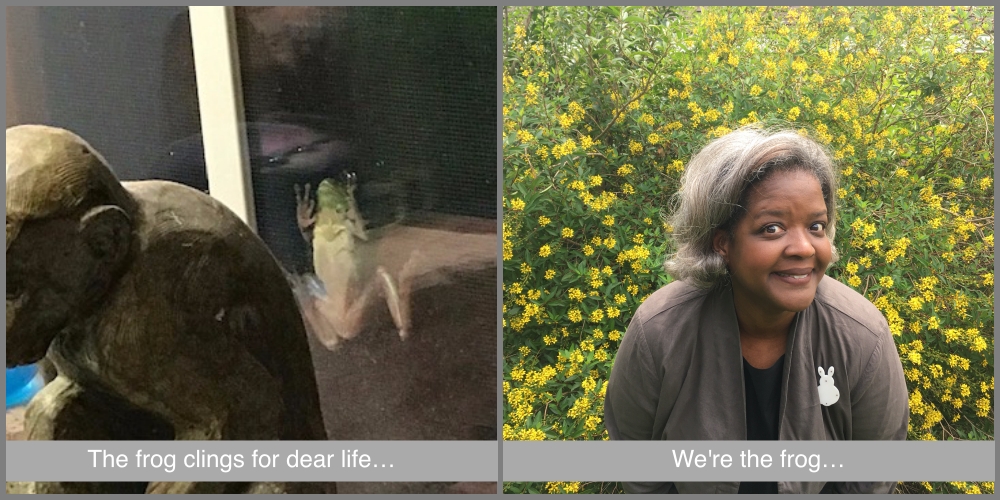 Until chimps get credit cards, you're the ONLY primate who can help Music Inside Out on GiveNOLA Day, Tuesday, June 2. We're the frog pictured above, of course, clinging for dear life. But the good thing about frogs is they're a sign of environmental health. When we're on the air, we're lifting spirits everywhere.
Music Inside Out makes it possible for artists like Ellis Marsalis, Galactic, Germaine Bazzle, Maggie Koerner, Rickie Lee Jones, Meschiya Lake, Terence Blanchard, and country music historian Bill Malone to tell their stories in unprecedented ways. And we help listeners appreciate Louisiana music and musicians differently. Music Inside Out may not survive 2020, but like the frog, we're gonna hold on until we can't anymore.
Take good care, and from 12:00 a.m. to 11:59 p.m. on Tuesday, June 2, please go to the GiveNOLA Day website:  
https://www.givenola.org/music-inside-out-with-gwen-thompkins
… and be the best Primate you can be.
About Us
Music Inside Out with Gwen Thompkins is a weekly, one-hour radio broadcast featuring the people of Louisiana who've devoted their lives to America's music. Host Gwen Thompkins and her guests talk extensively about the fire and sweat of the creative process. In addition, these guests examine songs that have influenced Louisiana's unusually varied musical landscape … music that reaches far beyond the state's borders.
The standard-bearers of Louisiana music include national icons. The list includes Jelly Roll Morton to Big Freedia … Fats Domino to Tim McGraw … Jerry Lee Lewis to Clifton Chenier … Mahalia Jackson to Trombone Shorty. What makes their music so varied and satisfying is the influence of other cultures. It's an ongoing dialogue with the rest of the United States and the world.
Each week, Music Inside Out showcases unexpected points of cultural connection. For example, Louis Armstrong loved Mascagni's Cavalleria Rusticana — and played an aria from that opera every day — just as contemporary Louisiana artists live with their ears wide open.
About Gwen
Gwen Thompkins is a veteran correspondent and editor for National Public Radio. She was East Africa Bureau Chief for National Public Radio, based in Nairobi, Kenya. She was also senior editor of NPR's Weekend Edition with Scott Simon.
Thompkins was born and raised in New Orleans. Early on she worked as a reporter and editor at the New Orleans Times-Picayune. in addition, she was a fellow at the Nieman Foundation for Journalism at Harvard University from 2010-2011.
Throughout her career, Thompkins has used music to shape her stories. She's reported on secret wedding night dances in Sudan as well as musical testimonials to crimes against humanity in Northern Uganda, and East Africa's fascination with Dolly Parton.
Her acclaimed NPR series on hurricane Katrina was rich with New Orleans music.
Thompkins remains a correspondent for NPR and files musical stories and essays from New Orleans. She says she's never quite evolved from making mix tapes, playlists — and connections with a wide variety of artists. As a result, her interviews brim with humor, curiosity, and creativity.