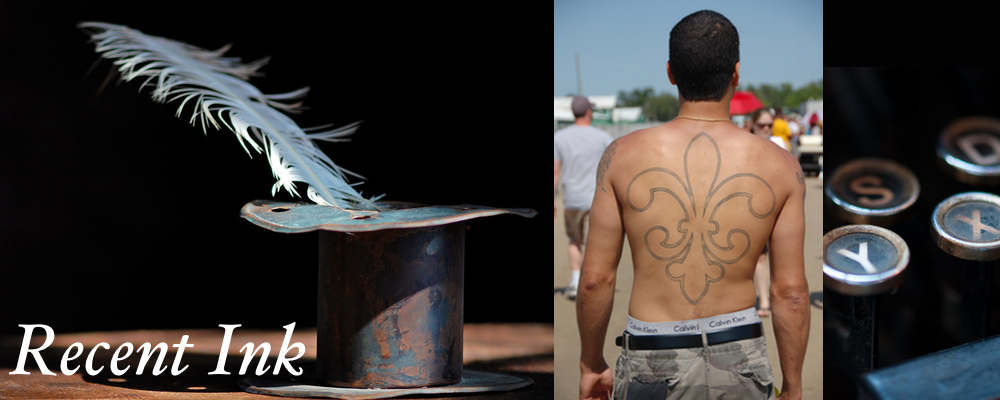 The newspaper of record for public radio and television has an article in the September 9, 2013 issue on Gwen and the show.

Writing in Current, Mike Janssen notes that you "can take the journalist out of New Orleans, but you can't take New Orleans out of the journalist."
"At least not the abundantly soulful music of New Orleans, if the journalist is Gwen Thompkins."
And later in the article, Gwen says:
"My experience so far has confirmed that sometimes you have to do your own thing and invest in yourself," she says. "If you have something to offer, offer it on your own terms. Maybe if you work hard enough, people will respond."

The piece has not yet been posted online, but we have scanned the article for you to read in the meantime.

In the September 13, 2013 edition of The Advocate, Alex Rawls writes about Gwen and Music Inside Out in the article Musicians Open Up On Hourlong Radio Show.
From the article:
For a year now, Thompkins has been getting musicians to open up and talk candidly on "Music Inside Out," an hour-long program of music and conversation with [Louisiana] musicians, including recent shows with Terence Blanchard, Tom McDermott and Dr. Michael White. She doesn't see herself as a critic, and she's not interested in chasing scandal.
"I'm trying to get that person to open up and say what he or she thinks about," Thompkins says.
"I have no friends who work for a living as musicians," Thompkins said, and she considers that distance an advantage because it forces her to do her homework. It also means that she's in the same position as her listeners; the stories she wants for them is the story she wants for herself.
Thompkins' approach to the show was influenced by a "New Yorker" profile on Paul McCartney, who was dealing with hard times. When he remembered that he was the guy who wrote "Paperback Writer" and "Let It Be," he cheered up, and Thompkins wanted to apply that to New Orleans musicians.
"I start talking to them about themselves and they begin loosening up," she said. "They like knowing someone out there has really listened to them, and they fall in love with themselves again. All I do is remind them, 'Didn't you do this?' 'Didn't you do that?' 'Wasn't that cool?'"
---

In September of 2013, the Nieman Storyboard, a project of the Nieman Fellowship at Harvard, featured Gwen as a recent Fellow.
From the article:
Her talk with the singer/songwriter/master guitarist Sonny Landreth, for instance, produced a moment of craft wisdom that might just as easily apply to the classics of longform narrative: "My songwriting heroes wrote songs that, to me, stood the test of time. I figured out it's pretty easy to write a song. But can you write one that you'll actually still want to listen to a week later, not to mention a year later or five or 10 years later?" With a background in both print and audio, Thompkins gets how a good story behaves, and what it can and should conjure, and she tells her own stories with evident awareness of what's important in life. Her voice is so melodic and full she should record children's bedtime stories as a sideline. Oh, and bonus: There's always a playlist.
---

The July (2013) issue of New Orleans Magazine had a piece written by Jason Berry profiling Gwen and the show. Here's an excerpt from "The Music According to Gwen Thompkins."
From the article:
Gliding through traffic my car radio yielded the soft, mellifluous cadences of Allen Toussaint discussing Bright Mississippi – an album high in the New Orleans canon. The light was red at Carrollton and Washington avenues when Toussaint gave credit to his producer. Musicians do this all the time in talking about their recordings, like politicians thanking wives. WWNO interviewer Gwen Thompkins had the journalistic smarts to probe. From the transcript:
Allen: "Joe Henry, I must say, he is the one that chose those songs in particular and I'm so glad he did because a couple of them, I had never heard before."
Gwen: "Like what?"
Allen: "Well, I had never heard 'West End Blues' before."
Gwen: "I don't believe you."
Allen: "Truly."
---