Givonna Joseph & OperaCréole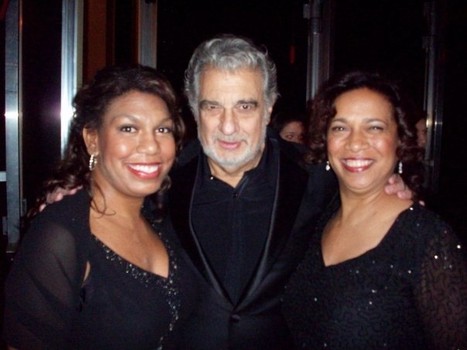 Givonna Joseph and her New Orleans-based troupe, OperaCreole, tackle some of opera's most challenging works with gusto, including early compositions written by free people of color in the United States and Europe. So, in addition to Bizet and Puccini and Verdi and Gershwin, OperaCreole gives full attention to composers Andre Ernest Gretry, Edmond Dede, Lucien Lambert and Samuel Snaer, among others.
In doing so, OperaCréole is continuing one of the nation's longest running opera traditions. New Orleans was home to North America's first opera house.
But don't think that Joseph's interests are exclusively operatic. Tune in for her take on scat singing, Kathleen Battle, Mary J. Blige and James Brown. Yes, THAT James Brown. Tune in for perhaps the wildest opera duet of all time.
Opera Créole has grown from a group to a company to that brings in artists from around the country, but their core local roster includes:
-Givonna Joseph: Founder and Artistic Director
-Aria Mason: Co-Founder and Production Director
-Dr. Wilfred Delphin, founding pianist
-Ronald Joseph, pianist
-Tyrone Chambers, founding and principle Tenor
-Ebonee Davis, soprano
-Kenya Lawrence Jackson, soprano
-Prentiss Mouton, resident tenor
-Brandon Richardson, baritone
-Terence Brown, baritone
-Kenya Lawrence Jackson, soprano
-Ashalen Sims, pianist
You can read more about each of these wonderful artists, and OperaCréole's many guest artists here.
Bewitched
Mezzo sopranos are the bad girls of opera, says Givonna Joseph. Need a hag? Call a mezzo soprano. Need a shrew? Call a mezzo soprano. Need a witch? Yep, you guessed it — put that mezzo soprano on speed dial.
But not all witches are bad. In fact, in the Broadway musical, "The Wiz," Glinda the Good Witch encourages Dorothy to believe in herself, click her heels three times and get the heck back to Kansas. Lena Horne played Glinda in the 1978 movie version of "The Wiz" and Horne happens to be Joseph's favorite popular singer.
"I never follow a style of music, I follow a singer," Joseph told Gwen. And for Joseph, Horne had it all — beauty, grace and sass.
As Glinda, Horne was on screen for less than three minutes, but her commanding performance of the song, "Believe in Yourself," was enough to knock sense into Dorothy and any other soul passing through the greater Oz area.
Connect with OperaCréole
Website | Calendar | Twitter | Facebook
Lagniappe

Here's the video of James Brown & Luciano Pavarotti. You may want to sit down before you watch it.