A. J. Croce
TELLING TALES
A. J. Croce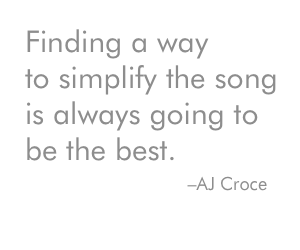 It's easy to tease out the artists who've inspired A.J. Croce's singing over the years — Ray Charles, Paul McCartney*, Buddy Holly, even Ray Davies of The Kinks. He loves early rock n roll and R&B. So perhaps it's ironic that A.J. rarely sounds like his father, singer-songwriter Jim Croce, who made his mark on music in the late 1960s and early 70s.
With nine albums to his credit and more than 20 years as a touring musician, A.J. Croce is his own man, performing his own music. And a devoted fan base has shown its appreciation for the genre-busting of the younger Croce.
He is at home in front of a piano. He wields the songwriting pen with expertise. And he plays a mean guitar, too.
On Croce's most recent album, he collaborates with six of the industry's most famous producers. Twelve Tales took a year to finish — spending a little time with each producer in ten different recording studios across the country, each producer taking a pair of songs under his care. Croce describes the project as "a musical jigsaw puzzle without a box."
Now that the last song has been released, we can all see the bigger picture.




Connect with A.J. Croce: Website | iTunes | Facebook | Twitter | Croce's Restaurant | Playlist

Find out how you can support Music Inside Out.




TWELVE TALES

The list of producers on Croce's latest album reads like a Who's Who of the American music industry: Mitchell Froom (Elvis Costello, Paul McCartney, Randy Newman, Pearl Jam, Suzanne Vega), Kevin Killen (Dr. John, John Boutté), "Cowboy" Jack Clement (Waylon Jennings, U2, Jerry Lee Lewis, Johnny Cash), Tony Berg (Fiona Apple, Bob Dylan), Greg Cohen (Tom Waits, Laurie Anderson, David Byrne), and Allen Toussaint (Paul McCartney, Paul Dimon, Dr. John, etc.)

Maybe the reason the album took a year to record is that you would never want to put that much talent in one studio at a time.
The artistry of a song's producer can be lost on some people, but let's use the analogy of the kitchen: while the sous-chef is doing the actual cooking (the recording engineer) and it's the restaurateur's name on the door (the artist), once you're in the kitchen, it's the Chef de Cuisine (the producer) who is making every dish work and sending plates back to the line if they're not just perfect. Luckily, the listeners are the diners. (May we have another pat of butter, please?)



Listen to samples from all twelve songs on the album and hear the influence of the six producers.

MITCHELL FROOM

"Venus and Adonis"
"Venus and Adonis"
LYRICS
"Call of Love"
"Call of Love"
LYRICS
KEVIN KILLEN
"Keep the Change"
"Keep the Change"

"Right on Time"
"Right on Time"






"COWBOY" JACK CLEMENT

"Easy Money"
"Easy Money"
"Momentary Lapse of Judgement"
"Momentary Lapse of Judgement"
TONY BERG
"Always and Evermore"
"Always and Evermore"

"What is Love"
"What is Love"






GREG COHEN

"The Time is Up"
"The Time is Up"

"Make it Work"
"Make it Work"






ALLEN TOUSSAINT

"Rollin' On"
"Rollin' On"

"Tarnished and Shining"
"Tarnished and Shining"

LYRICS
THE CROCE LEGACY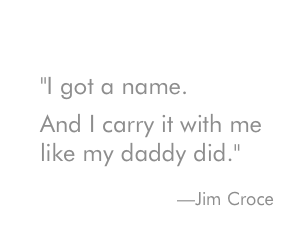 A.J. Croce's father, Jim Croce, was a singer-songwriter with two #1 songs in the early 1970s — "Bad, Bad Leroy Brown" and "Time in a Bottle."
In all, Jim Croce recorded five studio albums and released 11 singles.
Jim Croce died with four others in an airplane accident in 1973. He was 30 years old. A.J. was just shy of two.
Being in the same business as a famous (and beloved) father can be problematic: people necessarily make comparisons and the lazy journalist will always be tempted to begin your story with his.
There was a time when A.J. Croce avoided discussion of his dad, wanting instead to focus on his own art and his own life.
"I still love his music," A.J. told Gwen. "Part of my job for the last 15 years has been to make sure that younger people hear it and that it carries on and lives and so it is important to me."










LAGNIAPPE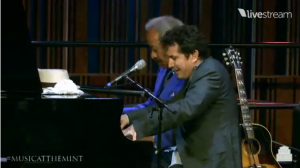 A. J. Croce played at the Old U.S. Mint in July of 2014. You can watch a recording of the entire concert online but here's the four-hand piano duet that ended the show — featuring none other than the great Allen Toussaint.

Croce & Toussaint

Thanks to engineers Danny Kadar and Joe Stolarick and the Music at the Mint program.






* Croce's version of "Maybe I'm Amazed," demonstrates not only vocal range, but some darned good piano playing. Croce started playing piano before the age of ten. He told Gwen, "It's one of the few things, I could excel at."

Maybe I'm Amazed