Gwen Thompkins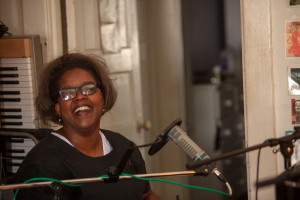 Gwen Thompkins is a veteran correspondent and editor for National Public Radio. She was NPR's East Africa Bureau Chief — based in Nairobi, Kenya — and senior editor of NPR's Weekend Edition with Scott Simon. Thompkins was born and raised in New Orleans and worked early on as a reporter and editor at the Times-Picayune newspaper. She spent the 2010-2011 academic year as a fellow at the Nieman Foundation for Journalism at Harvard University.
Throughout her career, Thompkins consistently has shaped stories to music and vice versa. She reported a critically acclaimed, music-rich NPR series on New Orleans in the weeks following Hurricane Katrina. She's also reported on secret wedding night dances in Sudan, musical testimonials to crimes against humanity in Northern Uganda, and East Africa's fascination with Dolly Parton.
Thompkins remains a contributing writer for NPR and files musical stories and essays from New Orleans. Personally, she's never quite evolved from making mix tapes, playlists, and connections with a wide variety of artists. Her interviews teem with humor, curiosity, and creativity.